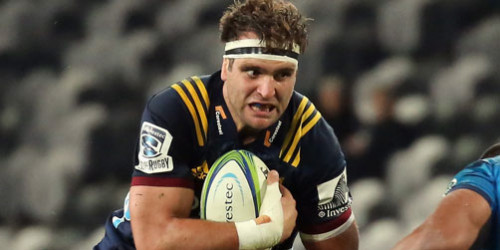 Coach Aaron Mauger said: "We've performed pretty well over the last month but there's still areas we'd like to improve on and the last two weeks has been around closing out the game plan for the full 80 minutes and to be a bit more polished around a lot of those things we are doing well and we've just got to make sure we keep it on for 80 minutes."
---
Mauger said it was important the Highlanders were smart with how they play and spending time in the right part of the field.
"The Lions like to hold the ball a lot so we're mindful of their strengths but we see a lot of opportunities for us as well if we get our game right," he said.
Luke Whitelock has been retained on the blindside flank while Shannon Frizell has been named at No.8 with Elliot Dixon getting a break from starting and Dillon Hunt will start on the openside.
Mauger said with two quality openside flankers it was a good opportunity for Hunt to start. They had been happy with how James Lentjes had been playing.
"He's [Hunt] is really excited and energy is going to be really key for us off the back of travel. We've had a big four or five weeks, big games and a few of those boys have been a bit banged up and played a few minutes and Jimmy's one of those so it's just an opportunity to give Dillon, who's fresh, a start. He'll do the bulk of the work and Jimmy will come on and bring his experience and his game towards the back end.

Here's #YourLanders to take on @LionsRugbyCo on Saturday 3.05pm (Sunday 1.05am NZT) in Johannesburg! #highlandersandyou #LIOvHIG pic.twitter.com/UiuPkHKajl— Pulse Energy Highlanders (@Highlanders) May 15, 2019
"They're [the Lions] pretty dangerous around the breakdown. They've got Kwagga Smith, Marius Schoeman and Malcolm Marx in their forward pack and they're in the top three for turnovers in the competition so that hasn't gone unnoticed.
"We've put a bit of work into our breakdown over the last couple of days to make sure we're aware of those threats and got the tools to deal with it," he said.
There was also the chance to go into the last few weeks with a more settled squad, especially with the likes of wing Waisake Naholo back in the starting 23.
Mauger added it was also good to have all the All Blacks rest weeks behind them now.
Whitelock said he was unconcerned about playing on the flank and while every position was slightly different, the way the Highlanders used the blindside flank and No.8 positions their roles were very, very similar.
"It's just where you put your head in the scrum really," he said.
While the points table was very close with several teams vying for playoff positions, Whitelock said it was a case of only taking it on the weekly view.
"Ultimately the table is going to have a shake-up over the last part of the season but we're just focusing on our first game on tour and controlling what we can control," he said.
Whitelock said the Lions had led the way for the South African sides in recent seasons and they had been taking their skills to a higher level and it was exciting to play them as they were slightly different to New Zealand sides.
"They always come up front and ask questions there first," he said.
Whitelock felt the Highlanders had taken steps forwards with their set-piece and after a session of hard work in scrummaging on Wednesday it was going to be a great challenge going up against one of the better scrums and lineouts in the competition.
??? ARE YOU NOT ENTERTAINED?

Round 14 of #SuperRugby will ignite when @Hurricanesrugby take on the Jaguares on Friday night.

??? https://t.co/MmuoV6t3ZF
?? @skysportnz pic.twitter.com/b8q7aRfjPk— Super Rugby (@SuperRugbyNZ) May 16, 2019