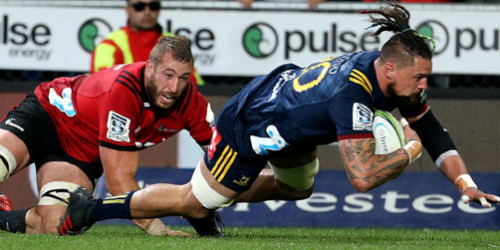 Coach Aaron Mauger said after the win, "It's obviously three good results for us but we are going to have to be better again.
"Every time we have played this year the opposition have been better so we expect the same against the Hurricanes next week. There's a couple of things we need to tidy up before we attack them," he said.
---
QUICK TAP: INVESTEC SUPER RUGBY ROUND 5 REVIEW
---
The side had been aware that with their first three games at home they needed to bank some competition points early, but they were looking forward to playing away in Wellington.
Mauger said he was proud of the effort that went into the game that had been an intense battle.
"I thought the Crusaders were really sharp, they attacked our game and I thought they did that well. We showed a lot of composure through certain parts of the game that allowed us to control key moments and ultimately that was the difference in the end," he said.
The Crusaders attempted to disrupt the Highlanders' ball at the breakdown which had slowed down the home side's momentum.
The visitors had made a good start by scoring early on through wing George Bridge's try.
"We bounced back from that really well and I was proud of the guys that we were able to manage those moments and get back on top at key times."

The side had shown guts and commitment and when the Crusaders did manage to create a breach in the defensive line there were wholehearted efforts made to get back in cover.
Mauger said the observation the players made on the field in the manner of attack through the middle by the forwards in the lead-up to hooker Liam Coltman's try, matched that in the coaching box and that had been pleasing.
It didn't matter if the word came from the coaches or the youngest player on the field.
"We train our boys to see the same pictures in those moments. We've got to adapt and it's something we've worked hard on," he said.
Coltman said it was good to get a win over the Crusaders and it had been a typical New Zealand derby in being fast and physical.
They had also fed off their buoyant crowd and their effect had been significant, he said.
"When the crowd gets behind you and you're feeling a bit tired it picks you up when you hear the crowd roar, it's fantastic."
And when the Crusaders came back at them, as expected, and when Waisake Naholo was in the sin-bin, it had been a case of staying composed and it was good to be able to score points, and not concede any during that time.
On the road against the Hurricanes nothing would change. It would be about everyone doing their job and earning the right to go wide as they had against the Crusaders, he said.