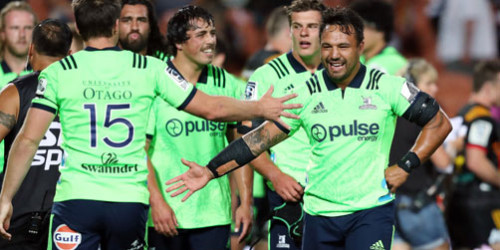 That was the view of Highlanders defence coach Glenn Delaney.
---
QUICK TAP: REDS CHASE POSITIVE START IN DUNEDIN
---
"That epitomises everything that is great about Thorny; the work rate, the physicality, uncompromising, I think that's the tone he'll be setting for them.
"Working hard is a given and he'll be demanding that from his crew and they're actually playing some pretty good football as well. They're a good off-loading team, they've got some threats out wide and a really challenging first-five [Hamish Stewart] who is going to challenge the gain line and the captain [Samu] Kerevi is a genuine class player.
"They're a well balanced team but I think they're going to be a full, hearty challenge for us this week and one that we really respect and are looking forward to," he said.
The side had only to recall their 18-15 win in Brisbane last year to know how tough it would be on Friday. That game had been in the balance the whole way through.
"They're a side that just refuse to give up so for us there's nothing apart from a lot of respect when you watch the detail they've got in their game. They're a handful so we're going to have to be very much on our mettle to make sure we get a result," he said.
Prop Taniela Tupou (the Tongan Thor) was part of a very strong scrum and with his fondness for running with the ball he would enjoy playing at the stadium.
The Reds would be reflective of Thorn's personality, Delaney said.

What an opening round of #SuperRugby, but which New Zealand team do YOU think scored the try of the week?

A: @ChiefsRugby
B: @Highlanders
C: @BluesRugbyTeam
D: @CrusadersRugby
E: @HurricanesRugby#RaiseTheStakes pic.twitter.com/RIZPNaLbsM— Super Rugby (@SuperRugbyNZ) February 18, 2019
Hooker Ash Dixon said getting a win away from home from the outset was a good start because inconsistency on the road had been an issue last year and it was something they wanted to improve.
"We want to play some good, entertaining football, and I think we did that at times but it was good at the back end of that to close out the game because I guess, learning from last year, we probably weren't good at that and we've taken a step in the right direction," he said.
It was a case of having a plan and everyone sticking to it.
The Reds would be a handful this week. They were a very physical side and hadn't played in the opening round so would be very fresh.
It would also be a boost having the traditional support of local students during their Orientation Week, one time when they could be relied on to help fill out their end of the stadium and their support was something the team enjoyed.
Dixon said he was happy to get onto the field as he had a few niggles he had been trying to get right which weren't quite right but he was slowly getting his game back in order.
ROUND 2? | It's going to be another massive weekend of #SuperRugby, the round kicks off with the @Highlanders hosting @Reds_Rugby in Dunedin. Round one was simply brilliant, what are your predictions for round two? ??#RaiseTheStakes pic.twitter.com/TUgt0z2nrT— Super Rugby (@SuperRugbyNZ) February 17, 2019