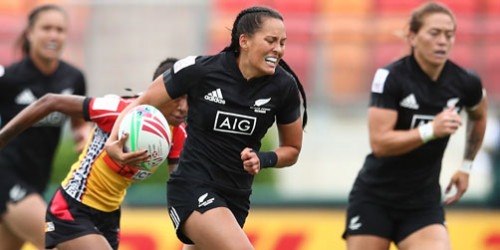 Showing no signs of the injury which curtailed her appearance at Hamilton last week Hirini thrived as New Zealand beat Papua New Guinea in their opening game 38-5, France 31-7 and England 29-0 to round out the first two day.
Hirini was a livewire, leading from the front throughout the three games, providing thrust and momentum just when required while flinging some accurate dive passes in the win over England, the ground being affected by rain that fell earlier.
---
QUICK TAP: WOMEN IN RUGBY MAKING AN IMPACT
---
The win over England was emphatic and resulted in some good play in tight situations. That was clear in the first try when Tyla Nathan-Wong broke the England defensive impasse by resorting to a kick ahead. She stayed in front of England's defenders, toed the ball on and then gathered it before getting a pass to Niall Williams who was in support.
Gayle Broughton was introduced late in the first half for immediate impact with her goose step and then acceleration into a gap to score.
England had New Zealand pinned on its line for a scrum, but New Zealand cleared the ball with Hirini putting Michaela Blyde into space and she ran nearly 80m to give New Zealand complete control of the game.

See you all tomorrow for our Cup quarterfinal clash with @RugbyCanada ??

? 2.50pm NZT
??? Spotless Stadium, Sydney
?? @skysportnz
?? #Sydney7s pic.twitter.com/aQncb3xs0z— Black Ferns (@BlackFerns) February 1, 2019
Shakira Baker and Alena Saili were both introduced as substitutes and scored a try apiece as New Zealand rounded out their win.
The Black Ferns needed to quell some determined play from Papua New Guinea in the opening 38-5 win. Hirini opened the scoring when stationed wide and was on the end of the line after some strong turnover work achieved by Williams.
However, the moment of the game didn't belong to the Black Ferns. Instead it was 38-year-old PNG flyer Fatima Rama who stole the moment after a stunning break from deep in her own territory. She got the ball in the clear and headed for the goalline with Blyde in pursuit, but the New Zealander's vain dive wasn't enough to halt Rama, mouthguard out of place and being chewed on her run, from scoring.
But it was a momentary hope for PNG as New Zealand ran the ball from the restart with Nathan-Wong using a sidestep to open up a gap in midfield to run 60m to give New Zealand a 12-5 halftime lead.

RE:LIVE: OFFLOADS EVERYWHERE

The @BlackFerns throw countless offloads before Gayle Broughton scores with beautiful dummy #Sydney7s#DHLRugby pic.twitter.com/EPZL6KSFgC— World Rugby Sevens (@WorldRugby7s) February 1, 2019
Williams scored early in the second half on the back of a reverse pass and then replacement Broughton scored after Hirini and Blyde combined to create the chance.
Baker scored almost immediately after taking the field and the game was rounded out when Ruby Tui capitalised on Baker's ability to stay on her feet in the tackle, get the ball clear and provide the scoring chance which Tui took.
France were expected to be a much tougher proposition but lacked poise under the pressure New Zealand. They had a great chance to score from a five-metre scrum on New Zealand's line. But they failed to control the ball and Nathan-Wong was through onto the loose ball in a flash. She raced to halfway and found Hirini in support. She gathered in a wild pass and sent it on to Blyde who raced away to score.
French woman Chloe Pelle unleashed a strong fend on Stacey Waaka to hold her off and race in for France's try to level the scores.
But soon after Anne Cecile Ciofani was sinbinned for a deliberate knock down and New Zealand capitalised. Hirini immediately lifted the tempo and Waaka had the chance to race in and then after the halftime siren sounded replacement Broughton was on hand to take advantage after France conceded successive penalties to score.
Into the second half New Zealand applied defensive pressure through Blyde and Broughton for Nathan Wong to score. Williams was sinbinned for a high tackle but New Zealand's defensive covered her absence and no sooner was she back for the last moments than she took the ball to the line before being tackled. The ball was flicked on to Blyde for the easiest of tries for the 31-7 win.
Nothing beats having family in the stands to support you ??????#Sydney7s pic.twitter.com/vW9UywAQZm— Black Ferns (@BlackFerns) February 1, 2019