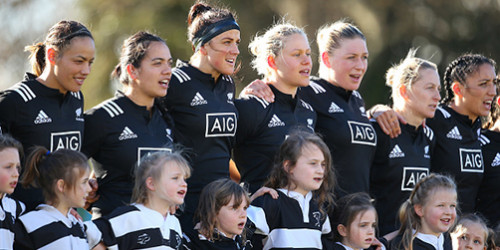 The terms for the programme are set out in a Memorandum of Understanding (MOU) which will see a minimum of 30 players employed by NZR on a Black Ferns contract with a guaranteed retainer, assembly fees and a range of other benefits.
Other highlights of the MOU are the establishment of a Black Ferns Legacy Fund, a Parental Policy and Personal Development support. To align with other New Zealand professional rugby contracts, the players will receive medical and life insurance, and an opportunity to join the Player Savings Scheme and KiwiSaver.
The MOU further acknowledges the success of the 2017 Women's Rugby World Cup winning Black Ferns who will all be offered a stand-alone role as a Rugby World Cup Legacy Ambassador. The RWC Legacy Ambassadors will be paid to undertake promotional and related activities designed to help leverage and grow the game on the back of the platform created by their RWC win.
The remuneration for the players will be paid out of the Player Payment Pool agreed between NZR and the NZRPA under the existing Collective Employment Agreement (CEA).
The Parental Policy in the MOU introduces an entitlement for players returning to the programme from maternity leave, to have a support person of their choice to travel and stay with them to look after the infant during squad assembly. The costs of travel and accommodation for the support person will be met by the Player Payment Pool, with the cost capped at $15,000 a year for each player until their child turns one. The policy also provides opportunities for players due to go on maternity leave, to move into other safe employment within the rugby network until the player goes on maternity leave.
In addition to the 30 contracted players there will be a wider training squad which will see the Black Ferns Performance Programme cater for a further 20 players, who will train out of Regional Performance Hubs throughout New Zealand with the majority being managed by Provincial Unions as part of their existing High Performance Programme. Interim contracts will also be available for players called into the Black Ferns squad.
In line with other national teams and professional players, Black Ferns will receive the appropriate technical, tactical, biomechanical, strength and conditioning programming, nutritional advice, medical and sports psychological support appropriate for elite female athletes.
Introducing the first female to ever appear on the cover of the NZ Rugby Almanac - Fiao'o Fa'amausili! #IWD2018 pic.twitter.com/OYXHzh7sQm— Black Ferns (@BlackFerns) March 8, 2018
It is expected that players will be required to commit around 10-14 hours per week for rugby training however, priority will be given to ensuring players can maintain their work and study while on the programme. For those selected to the Black Ferns squad they will assemble for approximately 50 days a year for training camps and fixtures. Details of the Black Ferns fixtures for 2018 will be announced in due course.
In line with the CEA, significant support will be given to female players around Personal Development so they are assisted in the critical areas of career/education and work, finance and asset protection, character development, mental wellness and other professional rugby obligations and expectations. Similar to the Super Rugby environments, a Personal Development Manager will be allocated specifically to support the Black Ferns.
With the future of women's rugby in mind, NZR will also establish a working group focused on assessing future competition options and structures at an international, SANZAAR and national level.
NZR CEO Steve Tew said he was proud of the announcement which signalled new era in women's sport in New Zealand and in rugby.
"Women's participation in sport is growing globally, and they represent the fastest growing group in New Zealand rugby numbers. One in seven rugby players in New Zealand is female.
It's International Women's Day and rugby continues to grow globally!

?? 60% increase in female rugby players since 2013
?? 150% increase in registered female rugby players since 2013
?? Over a quarter of all players across the globe are now female #IWD2018 #PressForProgress pic.twitter.com/i6TDPniH46— World Rugby (@WorldRugby) March 8, 2018
"The Black Ferns – and the Black Ferns Sevens – have rapidly grown in profile, statue, and relevance on the international stage. This agreement supports them to be the best they can be when wearing the black jersey.
"Rugby fans can't get enough of the Black Ferns' exhilarating and entertaining rugby. And, if we want to support players to continue to give their all, we need to ensure we're providing the best environment in order for them to perform at their best. Today's announcement highlights our commitment to all rugby and to the black jersey.
"Congratulations to the negotiation team on their hard work behind this agreement. The programme we are announcing today delivers a sustainable model that allows for growth, and that is ultimately, great for the game.
"This year will be an exciting year for the Black Ferns - we have already announced Glenn Moore's re-appointment as Head Coach, and we will soon announce details of the Black Ferns 2018 programme."
NZRPA CEO Rob Nichol said: "This is a significant milestone for the women's 15 game. It is a long-term sustainable model that offers genuine pathways and support for female players on and off the field, and that we can build on in the future.
"It is a credit to those players who over several decades who have built such a strong platform, based on an outstanding culture and phenomenal international success, that has enabled this professional performance programme to come to fruition. It is pleasing that the 2017 Rugby World Cup Black Ferns will be acknowledged for the impetus and inspiration they have given the game on the back of their success. For the future it signals a very real career path for women's 15s rugby players, one that will allow them to thrive in rugby but most importantly one that will provide an equal focus on helping talent people to achieve engagement and success beyond the game, within their families, communities and chosen careers.
We don't try to be someone else, we carve our own path. The #BlackFerns are #HereToCreate...@adidasnz pic.twitter.com/KY2tUGiRX2— Black Ferns (@BlackFerns) March 7, 2018