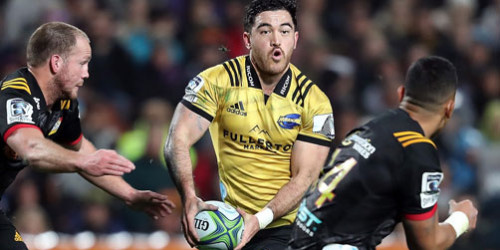 Assistant coach John Plumtree said there were parts of their game they were really happy with and some parts that they were not. They had been addressing this over the past few weeks and with the quarterfinal being such a massive knockout game there was a level of excitement that should see minds firmly focused on correcting those areas of concern.
---
QUICK TAP: BALANCED GAME VITAL IF CHIEFS ARE TO PROGRESS
---
"I wouldn't be surprised if we see the Hurricanes side that everyone wants to see this weekend," he said.
But being 0-21 down at halftime in last Friday's game was not something they had expected. However, they had regrouped in the second half and there was a possibility they could have won the game. That proved the character in the group, but at the same time they knew they couldn't afford to give the Chiefs a similar sort of start this time around.
"They've been flying every game for the last five or six weeks in terms of their start and we can't afford that to happen," he said.
"Every individual has a job to do this weekend, we know we've worked hard to get to this point. It's been a long season, we've arrived at playoffs time where we're fortunate we've got a playoff at home. We've earned that right and we're in front of our home crowd and we're where we want to be.
"We know we are playing against a really tough team. We've talked about all these things and we're just excited about the weekend.
"I guess the point I want to make is the past is in the past now and we're good to go," he said.
While they had a couple of injuries, they were excited and keen to retain their unbeaten record at home.
Centre Wes Goosen, who was on the end of the shoulder charge that resulted in perpetrator Johnny Fa'auili receiving a six-week ban, was going through his protocols and team management were hopeful that by Thursday he would have recovered well enough to be considered for selection.
Captain Brad Shields was improving from the rib injury he sustained against the Chiefs and they were hopeful that continued but Plumtree said he was aware ribs could stagnate during the recovery. But they were hoping he would get to play.
The requirement he would face is being able to play at the level of intensity the Hurricanes needed him to play at.
"He'll do what's best for the team that's the mark of the man. He would love to be able to carry on and play for the rest of the season but if he's not right he'll have to pull out and we'll go with the others," he said.
With Reed Prinsep and Gareth Evans they had some good options for the position.
"Brad knows that so I'm sure Brad will make the call when it comes," he said.
Quarter Final v @ChiefsRugby at Our House -4. ??

Public Sale at https://t.co/PxNmMVOfkC pic.twitter.com/EkVPqqzQN4— Hurricanes Rugby (@Hurricanesrugby) July 16, 2018