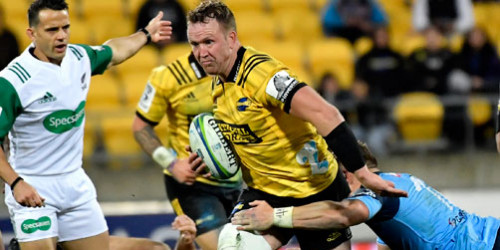 The Hurricanes had come through a tough end to their season with a late tour to South Africa, where they won both games, but for the last five or six weeks they had been up against sides who, to further their own chances, had talked of nailing them.
But the Hurricanes overall were in good shape relatively and it was a case of believing in themselves and having a go in Christchurch.
Hurricanes coach John Plumtree said every team saw what they thought could be opportunities against a great team like the Crusaders but in the long run it was still about executing the basics.
"We know what a massive scrum they've got, lineout, all those things, just the basics of the game and that's what makes these guys so good," he said.
"They're massive when it comes to gaining momentum and when they've got momentum they're pretty relentless so defensively we have to be good.
"We have to be able to win ball and apply some of that pressure ourselves. There's many things you have to get right against these guys and that will be our challenge," he said.
Plumtree said centre Matt Proctor had still been sore from the chest muscle injury that forced him to return early from South Africa and he wasn't considered for selection.
And given the Crusaders' kicking game and the contestability for ball it had been decided to leave Jordie Barrett at fullback where he was 'in a bit of a groove' while Peter Umaga-Jensen would hold his spot at centre.
Loose forward Vaea Fifita had completed his suspension, the three loosies who performed in his absence, Ardie Savea, Reed Prinsep and Gareth Evans, had done well and Fifita offered the side some impact when coming off the bench in the second half when the intensity of the game increased a couple of notches.
It wasn't only younger players who needed to be up to skill for the challenge ahead, that also applied across the squad to both players and management, he said.
Everyone had worked hard, had applied themselves before a day off on Wednesday and then a more intense training session on Thursday and now it was a case of staying relaxed until the start of the game and then being able to enjoy what was a big occasion.
The Hurricanes had been working on their exit strategies, whether from scrums or lineouts, because the pressure the Crusaders would apply was guaranteed.
"That's the sort of side the Crusaders are, they just apply pressure right through your game. They test you, they give you nothing really so it's a case of the players understanding what systems we have in place and then just going out and nailing their role," he said.
Crusaders coach Scott Robertson described Hurricanes flanker Ardie Savea as the player of the season in Super Rugby but while that was a nice tribute Plumtree said it wasn't about one player, it was about the team as a whole so far as the Hurricanes were concerned.
"There's some things about this team this year that have been a little bit different than possibly other years and we'll need some of that. And that's stuff that's based around the fact we've been under pressure in games, we've been behind and we've come back and won, and we've been ahead and we've had to hang on to win and that develops a fair bit of character among the group and certainly more of that is we're going to need in the weekend," he said.