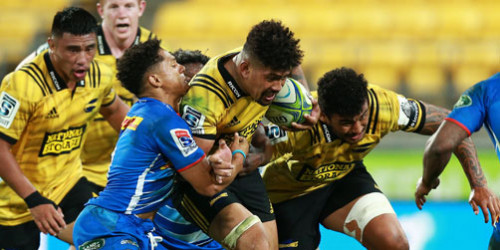 However, hooker Dane Coles won't play as the result of suffering a calf strain that wasn't going to recover in time for this weekend's game but it was hoped he would be available for next week's game against the Highlanders.
---
QUICK TAP: RETURNING READ WILL COPE - ROBERTSON
---
Coach John Plumtree said last week's Stormers game had been a tough contest for his pack and they were aware Friday night would be another tough night as well.
"We also understand that most sides are targeting our pack and we've just got to meet that challenge," he said.
"But we've worked hard this week and they're working hard together and we know what a massive challenge it is.
"One thing I've got to give the boys credit for is their character and the guts they are showing. We're not getting it perfect every time but right now we are doing enough but we know the challenge this week goes up a couple of notches," he said.
In terms of the plan against the Crusaders he said they did look at what they had, but they also had to keep in mind how they were going to play them and there would be times when they were under pressure and it would be how they dealt with pressure that determined the outcome.

WATCH ?? @HurricanesRugby loose-forward @ArdieSavea puts Ngani Laumape and Jordie Barrett to the test to see which one of them knows him best!

Grab your tickets to see the Hurricanes in action: https://t.co/MmuoV6KERd#HURvCRU #RaiseTheStakes pic.twitter.com/o0rtgjqUIe— Super Rugby (@SuperRugbyNZ) March 27, 2019
"The key too is that we apply some pressure on them and when that happens see how they handle it so I guess that's what makes it so interesting [in] these derby games," he said.
The Hurricanes had been patchy against the Stormers but when they were getting their rhythm and momentum they were going well but in some areas of their game they had been on the back foot and putting themselves under pressure.
The Crusaders were a strong side with a strong pack and had plays with options and while the Hurricanes could plan for one thing the Crusaders were capable of pulling out something else.
"That's generally the sign of a pretty confident team and a side that's got many strengths so we've got to prepare for what's coming but we can't totally focus on it, we've got to make sure we get ready for ourselves and what we want to do to them," he said.
The side wanted to play well for 80 minutes but the reality was that didn't always happen and if they came under pressure they had to deal with that while looking to turn that back on the Crusaders, get some ball and start playing their game.
. @DoveMenCare Team Naming | @crusadersrugby Lineup ?? pic.twitter.com/KSye692uLx— Hurricanes Rugby (@Hurricanesrugby) March 27, 2019