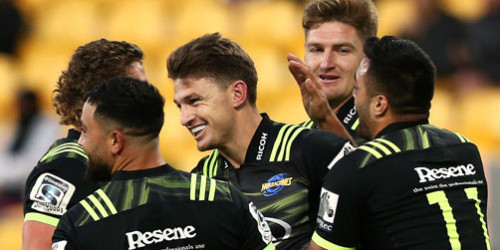 Having turned on an outstanding first half to lead 26-0, the Hurricanes had been pushed hard in the second half before claiming a 29-19 win over the Rebels at the weekend.
---
Assistant coach Jason Holland said the Hurricanes had dug themselves a hole in the second half, they had got stuck at their own end of the field and they had not exited very well.
"When we're under the pump a little bit with some of our set-piece we need to be clever about how look after it," he said.
"The set-piece is still the time to have a crack, scrum or lineout; there's eight forwards in one area of the field so we still want to make the most of those opportunities and the boys did pretty well in general the other night. At times we've got to be able to strike off other things as well.
"That's our focus, to be able to hurt teams at set-piece and if that doesn't happen to have patience," he said.

New Zealand's very own @ValerieAdams84 has selected her form #SuperRugbyXV based on all the round 1?2? action. Now it's time to select yours! ??

GET STARTED ?? https://t.co/8YShltuDVw pic.twitter.com/LncLhrbdk5— Super Rugby (@SuperRugbyNZ) May 6, 2019
Attempting to extend the momentum gained over longer periods of the game had been talked about. They scored two good tries and then two instances of average skill had let the Rebels have the ball which they kicked down the other end. It was a case of doing the right thing every time, and making the most of every opportunity they get, he said.
"If you haven't got the ball it's hard to play the game."
The situation had been exacerbated by having to play into the wind and not being able to get the preferred distance in clearances which allowed the Rebels to launch more attacks.
Hooker Asafo Aumua was a different player this year, Holland said.
"This year he's nailing his professionalism. He's got everything got everything going for him. He's been champing at the bit for an opportunity and the last two weeks he's got that and you can see what a force he is around the park with his physicality and how dynamic he is.
"We're loving him around the field, as Will Genia is but he's still got a way to go around little parts and there's a real battle for that hooker's spot at the moment," he said.
Wing Wes Goosen had always been a fast player but he had achieved a level of consistency this year and was supplementing that by making a lot of tackles.
"He's finishing everything. To score some of the tries he's scored a lot of people wouldn't finish them," he said.
While Dane Coles would not be considered this week due to his calf strain, wing Ben Lam had recovered and would be available.
Nanai ? Faiane ??

Would these two make your form #SuperRugbyXV?
Let us know by selecting your week 12 form XV here ?? https://t.co/8YShltuDVw pic.twitter.com/g7KKJEWFbW— Super Rugby (@SuperRugbyNZ) May 5, 2019