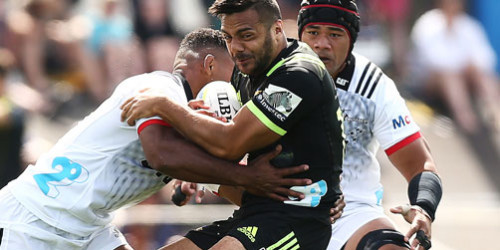 Assistant coach Jason Holland said while they had made a slow start to the competition, the Chiefs would be keen to show some fight and there would be some desperation from them.
---
"When you're desperate and you've got players of the calibre the Chiefs have got there that aren't quite getting the results at the moment, if you take the foot of the gas then you're going to be in trouble.
"Nothing other than our best will be enough," he said.
Competition for places in the Hurricanes' back three was a constant for the side and Holland said Jordie Barrett would play more games on the wing this year and also at fullback.
Chase Tiatia was an interesting player, he said, as he had been a player used as a replacement in the last few years and when called upon he had always nailed his requirements in the group when he wasn't playing.
He had been a case of a player waiting to take his opportunity and the coaching staff were delighted he had taken his chance when it occurred.
"He's left-footed and that's massive for me these days with our run-kick opportunities both sides of rucks and that helps us take a bit of pressure off Beaudy [Beauden Barrett] or whoever's our 10 on the day. He gives us a lot of options as well with his ability to have a crack at the line and offload and things so he's put in a lot of work and it's coming to fruition a little," he said.
The Hurricanes were happy to take the four points from their game against the Highlanders but acknowledged there were areas of the game they could improve.
He said it was interesting what could be achieved in terms of retention and accuracy when you had to hold onto the ball in the desperation to win a game.

ROUND 5? | It's going to be another MASSIVE round of #SuperRugby, who will win this week?#RaiseTheStakes pic.twitter.com/lYoG1xG5Sk— Super Rugby (@SuperRugbyNZ) March 10, 2019
"We did really well in that last 10-15 minutes. We soaked up a bit of pressure and held onto the ball and when you hold onto the ball through a few phases you'll generally score points or get a penalty so that was a good part of what happened the other night," he said.
"We were a bit disappointed with some of the things we did with the ball. We built pressure in the last part of the game and scored points and we need to do that more as Hurricanes rather than forcing things.
"We need to have a bit of patience around what we're doing and we also need to be able to get a bit of go-forward than we're doing so we'll get our set-piece better, we'll get our carry height better. Simple parts of the game really that will lead to the boys being able to play a bit," he said.
There would be work going into the scrum as they looked for a better performance in that department.
"The boys are working really hard at it, and we'll just tweak a few little things there and I'm sure we'll be fine on Friday night."
Being on the back foot in the scrum did affect the side's game as they needed their set-piece going well to get momentum
Centre Matt Proctor had an issue with a dislocated finger on Friday but it was back in place and he would be fine. Utility Vince Aso also had a niggle and they were just waiting to see how he was for later in the week.
Two Kiwi derbies and the Blues picking up their first win of the season - Round 4 of #SuperRugby had it all but which New Zealand team do YOU think scored the try of week?

A: @HurricanesRugby
B: @Highlanders
C: @ChiefsRugby
D: @CrusadersRugby
E: @BluesRugbyTeam#RaiseTheStakes pic.twitter.com/EfnPb12149— Super Rugby (@SuperRugbyNZ) March 11, 2019