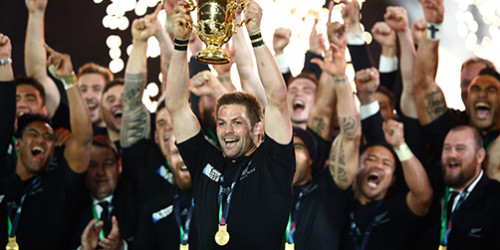 The ultimate First XV Jersey Collection is the brainchild of former board member Chris Liddell, who along with Rob Morrison has been working discreetly for several years around the world to locate and secure jerseys from historic All Blacks matches and tours dating back to the first Test match played in New Zealand in 1904.
---
QUICK TAP: HAKA MAN CHALLENGES ALL BLACKS FANS TO BACK BLACK
---
All Blacks jerseys from 15 different campaigns and matches that have now become iconic in New Zealand sporting history have been identified as important in telling the story of the All Blacks and the legacy of the Black Jersey.
Championed by Liddell and Morrison, the project has acquired 11 of the 15 jerseys, in addition to some that have been provided on long-term loan and duplicates for some campaigns.
NZR Chief Executive Steve Tew has said: "All our black jerseys represent historic moments in rugby. But there are some jerseys from teams that have forged a particularly special and iconic moment in our history. These are the jerseys we want to help remember and pay tribute to those amazing moments.
"Jerseys included in the collection have been debated and reviewed by some of the legendary names in the New Zealand rugby world including author and historian Ron Palenski and former All Blacks first-five eighth and assistant coach Wayne Smith and span the 1905 Originals, 1978 Grand Slam, our three successful RWC campaigns, and the infamous 1981 Springbok tour.
"This collection is kicking off with the All Blacks, though the aim is to expand this to our other teams in black and we have started to collect a couple of jerseys from other teams."

???? Wellington city shows us how to #BACKBLACK! pic.twitter.com/q1nEb3OFVR— All Blacks (@AllBlacks) July 25, 2019
Liddell said: "We have been working on this project for several years as we felt very strongly about the importance of bringing home some of the most important and iconic jerseys that celebrate the history, heritage and legacy of rugby, currently focusing on the All Blacks."
Morrison said: "The First XV Jersey Collection showcases the incredible history of the All Blacks and we would like to acknowledge the players and their families who have contributed to this Collection by allowing us to have some of these jerseys on long-term loan."
The Collection project – and the already acquired jerseys – will be revealed at the All Blacks Reunion dinner at Te Papa on Friday, 26 July.

Jerseys that have been collected
1905 Original - Ernest Booth
1905 Original - Duncan McGregor
1924 Invincibles - George Nepia
1946 Kiwis - Jim Sherratt
1967 All Blacks - Ian MacRae
1978 Grand Slam - Graham Mourie
1981 Springbok Tour - Bernie Fraser
1987 RWC - Sean Fitzpatrick
1987 RWC - Grant Fox
1995 RWC - Jonah Lomu
1996 'incomparables' - Sean Fitzpatrick
2011 RWC Semi-final - Richie McCaw
2011 RWC Final - Piri Weepu
2015 RWC - Richie McCaw
?? On. The. Grind.

Tag a mate who needs some All Blacks workout inspiration. pic.twitter.com/UIQd5YZCkC— All Blacks (@AllBlacks) July 25, 2019