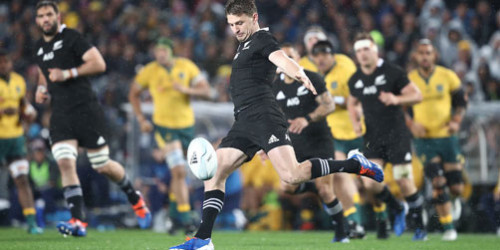 Barrett, who took the field while suffering a gastro bug, said with the increased intent of the side, they looked after the ball better which gave them more opportunities to play with the ball in hand.
"It was pleasing. Obviously we have been working on quite a few things in our game, a lot of them we put out there last night," he said.
They had prepared a wet weather plan and they had enjoyed playing that.
"We rolled our sleeves up and got into it. It was great to see the big boys up front leading the charge. We still managed to pull a few good plays off with a wet ball and conditions were actually pretty good," he said.
Barrett said they hadn't been doing a lot of kicking in games recently because they had been focusing on a lot of other things but it had been great to see the benefits [halfback] Aaron [Smith] got from his own game on the back of some good kicking.
"It obviously fed our defence and got our big boys into the game.
"There's so many different parts to the game, whether it's defence or attack and psychologically as well. But the kicking game was a pleasing one last night and when we dictate, we feel that we don't have to hold on to the ball because possession's great, then we can kick and dictate play a little bit better," he said.
Saturday had probably been the most limited application of the dual playmaker role in the four games they have played.
"We kept pretty simple last night," he said.
Much of the improvement after the Perth loss had come from the players looking at their own efforts, especially the team leaders.
"We felt that it starts with us and we have to lead the way at training and on the park on Saturday night," he said.
While the All Blacks don't usually reveal their emotions there was some investment in that in the game, especially with those players having their last Test in New Zealand.
"We don't show it [emotion] too much, even after good wins. Those are the things in the back of your mind. You do want to send the legends like Kieran [Read] off on a high note. And it was pretty evident with his performance last night he wasn't having it any other way. So it was pleasing to see."
Barrett said he had kicked the ball quite a bit in the game and he would probably have liked to have run more but physically he wasn't feeling well.
"I had some terrible gut pains [before the game] from some gastro issues," he said.
However, he was pleased to have run hard and set up the chance for wing George Bridge to attack and set up an infield pass for Smith to score.
"The previous week I kicked it and it didn't work out so that was one of the learnings we made and we gave George a one-on-one and he cut them up," he said.
Barrett said it had been great to have Bridge and Sevu Reece on either side of him. While they were different types of players they were both exciting.
"They've gone well for the Crusaders all season and it was in the back of my mind to give them time, give them the ball and try and get the plums through them.
"They are both very good communicators. Not only on attack but on defence as well and they understand the game really well. So I was really pleased with how they prepared and it showed by how they played last night," he said.
The win had had been a huge result for the side's confidence.
"We knew the answers would be in the room and we found them. I wouldn't say it was simple but what we saw out on the park last night came through simple rugby and just doing the basics right and having the right intent," he said.
With only the announcement of the World Cup squad on August 28 ahead there was an understanding that not all the Bledisloe squad could be included.
"The message Steve gave all of us last night was to all be ready, obviously we all can't make it but for those who don't make it, it was to go back and play Mitre 10 really well because we could be called upon if there are injuries in the World Cup and you have to be ready to go," he said.