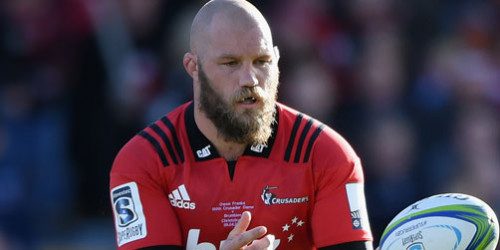 Tighthead prop Owen Franks, wing George Bridge and hooker Codie Taylor were all out through injury.
---
Coach Scott Robertson said, "George Bridge isn't quite right to go so when you have got a guy like Sevu Reece whose in hot form. Between him and Will Jordan and Leicester Faingaanuku you've got some really good depth and quality.
"We've picked the best team for this week. We needed to, we know how desperate the Highlanders are, the position they're in, and they've certainly mentioned how important this game is to them," he said.
Taylor's calf injury was not ready and with the bye next week it would give him the chance to make a 100 percent recovery.
Robertson said Franks would have a scan on his shoulder.
"The best thing for him is we just realise we will take the time with our players because we've got the depth in our squad, that's something we're really fortunate to have.
"We're rolling and trusting our squad. It's really important we've got as many bodies available at the end of the competition and trusting our players now," he said.

Here's our team for Friday night's Southern Derby against the @Highlanders! Do you have your tickets yet? Don't miss any of the action - tickets online at https://t.co/L8D4xSkPgH Read more about this week's team at https://t.co/Yd8xaFqcFc #CRUvHIG #mainlandbattle pic.twitter.com/ml8uRCSjkI— BNZ Crusaders (@crusadersrugby) April 10, 2019
Robertson said last week's win over the Brumbies, the result of a strong second half effort, had been a demonstration of sticking to structures and allowing the results to come.
The Highlanders had a lot of close losses, often just a bounce of the ball away from wins and it was a situation where as coaches you hoped you would get a couple of things go your way or someone on the field made a good decision for the side but sometimes it didn't work that way, he said.
"They've got enough players to turn it around, and enough smarts as a coaching group to turn their season round," he said.
Halfback Bryn Hall said they were expecting to face a desperate Highlanders side and he was expecting no lessening of intensity with the absence of All Blacks halfback Aaron Smith. His replacements would have high levels of enthusiasm and different strengths.
"As I said, they will be desperate and we just need to be more desperate than them," he said.
"They've got a great group down there and they want to start winning games. We're no different. For us it is to continue to keep getting better."
Having absorbed lessons from their loss to the Waratahs, they didn't want to get into the position of losing again, he said.
SCENES! It doesn't get any bigger than the #SouthernDerby, and you only have to look at what happened in 2017 to see what it means to @CrusadersRugby and @Highanders.

? 7.35pm, Fri 12 April
??? Christchurch Stadium
??? https://t.co/U772VNJ496
?? #CRUvHIG
?? @SkySportNZ pic.twitter.com/0R5QAySy0q— Super Rugby (@SuperRugbyNZ) April 10, 2019