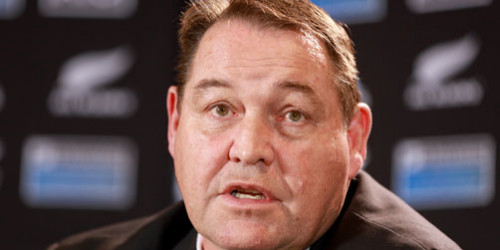 Coach Steve Hansen said the loss of lock Scott Barrett and second five-eighths Ryan Crotty to hand injuries in the Crusaders Investec Super Rugby semifinal against the Hurricanes was a demonstration of that.
---
EXCLUSIVE COLUMN: ALL BLACKS SQUAD LOWDOWN WITH JIM KAYES
---
The finals series of Super Rugby was so tough that injuries were almost inevitable and that would continue to be the case ahead of the weekend's final and possibly during the Investec Rugby Championship and into the World Cup itself.
For that reason players who did not make the squad should not give up hope of forcing their way into consideration.
Hansen cited the example of prop Joe Moody who had missed initial selection for the 2015 World Cup. Moody had been disappointed but had gone away and worked on his fitness before getting the call up to duty when Tony Woodcock suffered a hamstring injury.
Moody's fitness work had borne fruit and he had been one of the players of the tournament.
Hansen said the reason for the extended squad of 39 was they didn't want to take the bulk of Crusaders players to Argentina so soon after they had played in the Super Rugby final.
The main goals for the year were the Rugby World Cup and the Bledisloe Cup and a smaller squad of 34 players would be named after the Wellington Test against South Africa for the two Bledisloe Cup games.
The goal for the Tests against Argentina and South Africa was to play winning, but exciting rugby.
"We want to start mastering the execution of our game and to do that we're going to have to keep improving our skill sets and our decision-making under pressure.
"Hopefully we can show some big improvement in decision-making under line speed which is an area of our game that we believe that everyone is going to chuck at us, so the better we get at it the better the result we are going to get," he said.
Blindside flanker Liam Squire had ruled himself out of selection, telling Hansen he didn't think he was ready to play international rugby yet.
Wing Waisake Naholo, hooker Nathan Harris and halfback Te Toiroa Tahuriorangi had suffered from other players overtaking them. However, the door was not shut for them and they would have opportunities to stake a future claim.
A feature of the squad was the choice of four specialist blindside flankers in Vaea Fifita, Shannon Frizell, Luke Jacobson and Dalton Papali'i while Jackson Hemopo had been picked as a utility forward who could also be a blindside contender.
Hansen said the choice of five players able to play on the blindside flank was down to there being no obvious person putting their hand up to claim the position.
"Scotty Barrett getting his hand broken hasn't helped that either because he probably would have played there at some point but it's a great opportunity and exciting because I think all the candidates are good rugby players.
"Luke Jacobson [a new cap] has played really, really great rugby. He's a very physical defender, a good ball carrier, not just as a carrier-passer but he's got the ability to beat people, he's got the ability to offload in contact and he can play multiple positions.
"And going to the World Cup at the end of the year the more people we have got who can do that the easier it will be for us to narrow the squad down to 31," he said.
A big attitude change had helped hooker Asafo Aumua's choice. Hansen said he had lost his way earlier in his career when being taken away as an apprentice and he had come back fit and was a superb athlete.
"He's still got a bit of work to do on his throwing but he's getting better at that and his scrummaging is not the finished thing yet but you wouldn't expect that from a guy his age so you've got Liam [Coltman] who's played particularly well who have jumped over Nathan [Harris] at this point," he said.
Squad.

FULL STORY ???? https://t.co/yovdzz96c3 pic.twitter.com/YxkoZG2EBd— All Blacks (@AllBlacks) July 2, 2019