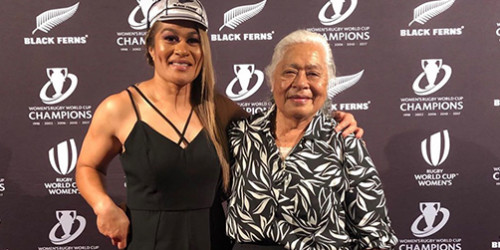 Faamausili was one of 31 Black Ferns who were capped at the event at Eden Park last night. She received two caps, one for her debut and another one for 50 Test matches. Faamausili is the first Black Fern to reach the 50-game milestone and she retired at the end of 2018 after taking to the field in the black jersey a record 57 times.
---
Faamausili said it was a humbling occasion to be officially recognised for her achievement.

"I experienced the whole debut thing earlier on in my career, but to be acknowledged with a cap is special. I found it exciting watching the girls last year receive caps, so having these ceremonies is on another level for us.

"I don't really know how to describe it. I've always said that I've had my moment of my first cap when I played in my first Black Ferns Test and I enjoyed the experience back in the day. But when you see other teams out there getting caps and being officially recognised I see how important it is and I am glad we are doing it too."

After making her first-class debut back in 1999, Faamausili has gone on to win four Women's Rugby World Cup titles and captained the Black Ferns side between 2012 and 2018.
WRAP | The #BlackFerns7s have gone three from three in pool play at the latest HSBC World Sevens Series tournament in Langford! ???

READ ???? https://t.co/2gQmkD91vW#Canada7s pic.twitter.com/UMN6A2dj4G— Black Ferns (@BlackFerns) May 12, 2019
Faamausili has played over 100 games for the Auckland Storm and won multiple provincial titles. In 2018 she was made an Officer of the New Zealand Order of Merit (ONZM) for her services to rugby. She is also a Detective in the New Zealand Police.

The Black Ferns stalwart says within their squad they would always recognise each other for outstanding achievements.

"We have a culture within our team where we acknowledge these moments, but it's great we now get to share it amongst each other and our families. It's been a long time coming, but I'm so glad it's finally happening."

Faamausili recently returned home after playing for the Barbarians side in their first ever fixture against USA in Denver. She said it was an awesome experience and quite relaxing at the same time.

"It was all about the enjoyment of rugby. We travelled there and played alongside girls we've battled against for so many years. We managed to string things together to take on a national team. We had a lot of fun, but at the same time we helped to grow the game within Denver.

"We took some young girls for skills sessions and played games to get the excitement level of rugby up again for those girls."

The Barbarians side face England in another fixture at Twickenham next month.

Black Ferns capping ceremonies
Fifty two Black Ferns were capped last year, including 46 at the 2018 reunion dinner. As mentioned, 31 players were capped last night and a further 17 will be capped at a ceremony in Christchurch next weekend. Black Fern and New Zealand Rugby National Referee Squad member Rebecca Mahoney received her cap in a surprise ceremony in Eketahuna recently, while three other players will have their caps sent out. In total 52 Black Ferns will be capped this year.
?? SPOTLIGHT | With the curtain drawn on a 22-year senior rugby career, Fiao'o Faamausili looks back on the highlights from her time on the field.

READ ?? https://t.co/pNVU8PbnoY pic.twitter.com/LzEzdTqKgp— Black Ferns (@BlackFerns) December 12, 2018