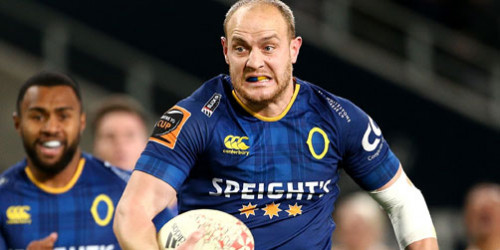 Having led 20-14 at halftime Bay of Plenty were well on track for an upset win but the intercepts in the 45th, 47th and 68th minutes turned the game Otago's way and assured if of a playoffs place.
---
QUICK TAP: WELLINGTON V AUCKLAND MATCH PREVIEW
---
Two of the tries occurred while Otago had loose forward Sione Misiloi in the sin bin but it still took a more orthodox try to give Otago its winning cushion.
After first five-eighths Josh Ioane, who cut his own merry capers in a 22-point performance, opted to pass after shaping to kick, he found his fullback with room to take on the opposition and fullback Koroi slipped his man and linked with halfback Kurt Hammer inside. He had centre Faddes in support and he scored his second try of the night.
In spite of their win Otago were left with plenty to think about, especially in their execution up front. They conceded the ball from the kick-off and Bay of Plenty pounced to get a great start with several drives at the line before the ball was held up when No.8 Hoani Matenga was ruled to have been held up over the line. From the scrum the ball was worked for first five-eighths Kaleb Trask to double pump before handing the ball on to right wing Bailey Simonsson who cross in the second minute.
Flanker Naulia Dawai made a strong run into the Bay of Plenty 22 and while there wasn't immediate reward for Otago it did come. Faddes poured on the speed to break into a gap but his attempted backhand offload went into touch.
But from the lineout, 10m out from their line, Bay of Plenty messed up the play and the ball trickled back into touch five metres out.
Otago worked the ball through 10 phases across the goalmouth before Ioane brought the play back to the open side and went through for the try.
Trask was proved a livewire for Bay of Plenty and his double rounds and direction setting and it was he who put his side back in front in the 23rd minute when Bay of Plenty tidied up after Otago pressured them at a scrum and provided Trask with a chance to run at the line to score.
Just before halftime, Otago worked their way back into the visitors' 22m and after Hammer had a snipe toward the line, the ball was almost held up in goal, but the Otago worked the ball back into the field of play and Ioane was able to hand the ball to Koroi to cross for the simplest of tries.

STATCHAT | Take a look at the leading stats from the #Mitre10Cup Championship. With only 2? rounds of the regular season left, how important will these three be for their team???#StatChat #Ours pic.twitter.com/2V2OHHPKce— Mitre 10 Cup (@Mitre10Cup) October 1, 2018
However, Bay of Plenty had the final say when from a penalty to the corner they worked a lineout move in which referee Jamie Nutbrown ruled that Misiloi had pulled the maul down and awarded a penalty try to give Bay of Plenty a 20-14 lead at the turn.
An early penalty goal to Ioane early in the second half edged them closer and then five minutes into the half, Bay of Plenty were mounting an attack but slow clearance from a ruck saw Faddes crouching like a sprinter in midfield and timing his run to perfection to achieve the intercept. He cleared out to the distant goalline.
More pain followed for Bay of Plenty when fullback Chase Tiatia and Fa'asiu Fuatai combined with halfback Luke Campbell to get hot on attack but then the clearance from the ruck saw Ioane latch onto an attempted flick pass and two minutes after Faddes he was following the same route to the distant goalline, again with flanker Mitch Karpik making another stunning effort to haul him in, but again without success.
No sooner had Misiloi returned than second five-eighths Patelesio Tomkinson was sin-binned for not releasing the ball at a breakdown in front of the Otago goalposts. However, Bay of Plenty infringed at the scrum and Otago cleared.
However, Bay of Plenty worked their lineout maul and while Otago were in danger of another collapse ruling, the visitors worked the ball with Karpik driving ahead and setting up a ruck which eventually provided a try out wide for hooker Tom Crozier. Moments from the end Bay of Plenty did achieve a four-try bonus point when replacement forward Aaron Carroll scored.
Scorers: Otago 34 (Josh Ioane 2, Vilimoni Koroi 2, Matt Faddes 2 tries; Ioane 6 con, pen) Bay of Plenty 45 (Bailey Simonsson, Kaleb Trask, Tom Crozier, Aaron Carroll tries; penalty try; Trask con, pen; Reece MacDonald con). HT: 14-20
FT | A huge second half from @OtagoRugbyTeam sees them pick up a 45 - 34 win over @BOPRugby to move up to second on the Championship table.#OTAvBOP #Ours pic.twitter.com/PlqYCxvh84— Mitre 10 Cup (@Mitre10Cup) October 3, 2018