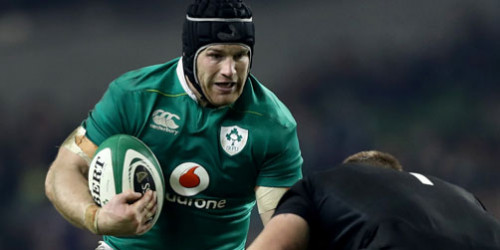 He will undergo surgery for a hip injury. The 32-year-old who was unable to play in the side's Pro 14 18-15 final win over Glasgow last played in Leinster's Champions Cup loss to Saracens.
---
As he is transferring to London Irish next season he will no longer be eligible for Ireland selection and will miss the chance to complete his Test career at the World Cup.
O'Brien, who scored an outstanding try for the British & Irish Lions in the first Test against the All Blacks in their 2017 series, was regarded as one of the key components of the Ireland side ahead of the World Cup.
He first played for Ireland in 2009 and won 56 caps while he played five Test matches for the Lions. Ironically, given the stature he held, he was not part of the Ireland teams who beat the All Blacks in Chicago in 2016 or in Dublin last year.
After the final win at the weekend O'Brien was given the honour of lifting the trophy on behalf of the 57 players involved in their 23-game domestic season.
Leinster, Ireland and Lions teammate Johnny Sexton said O'Brien was the best forward he ever played with and he said the decision to have him lift the trophy was deliberate.
"His last memory now will be lifting the trophy, there's not too many people who have lifted the trophy by themselves in Leinster. It's guys like Leo [Cullen] and Isa [Nacewa], they're the only two. The rest of the time we always do it in twos.
"It's fitting for him, we're really going to miss him. I'm going to miss him. To be fair, he's one of the best players I've ever played with. As a forward I'd say he's the best.
"Other forwards in the world didn't have his drive, as a leader and a player we're going to miss him," he told The Irish Times.
ICYMI | The Game of Thrones XV. Click the link below to see the reserves bench and reasons for selections.

RESERVES ?? https://t.co/WmvDzQxHCT pic.twitter.com/OsU2yFeFl4— All Blacks (@AllBlacks) May 25, 2019