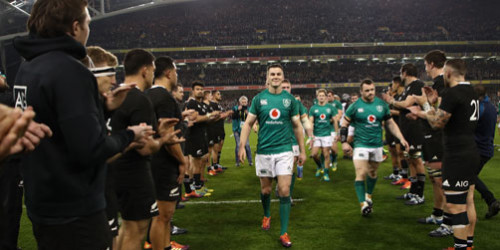 Read said it was hard to put into words. Ireland had come to play and the All Blacks had worked so hard but nothing seemed to come off for them.
---
"That happens some times, you've just got to give credit to the Irish, they're the better side today.
"The boys were well and truly up for it, we knew it was going to be massive and you can see by this crowd how behind their team they are. It was just a good game," he said.
The different defence systems they had struck in London and Dublin were something the All Blacks had to adapt to and Ireland had defended their hearts out, he said.
"We just couldn't break them."
The result came down to moments, as it did in all big games. Ireland had taken their one or two chances and the All Blacks hadn't, he said.
The All Blacks would learn from it and they would front next week for their final Test of the year against Italy.
Ireland captain and hooker Rory Best said the key to the win was attacking the All Blacks.
"If you sit back and look at them they're fantastic, individual players and a fantastic team, and we knew we had to go and attack them. At halftime we talked about needing to score a try.
"In 2016 when we came here we played quite well, didn't score a try and they outscored us so we knew we needed to score a try in the second half and thankfully we got that and we kept going and in the last 15 minutes we were hanging on rather than attacking them.
"But sometimes that happens with a quality side like New Zealand, you get that 10-point gap and no matter how much you tell yourself you do sit back and they get ball and are very dangerous with it," he said.

FT | An epic Test between the two best teams in the world. Congratulations @IrishRugby.#IREvNZL ?????? pic.twitter.com/BOFYKv23qC— All Blacks (@AllBlacks) November 17, 2018
Best said coach Joe Schmidt had given the side discipline and organisation and from that a lot of belief in knowing what they were going to do and from then it was just about delivering physically.
The win was massive for Ireland.
"We've created little bits of history over the last couple of years and to get a win on home soil against New Zealand is massive…we know how good they are and it took everything we had," he said.
Schmidt said his players worked hard for each other. They had worked hard in their groups to put pressure on the All Blacks in the first half and it wasn't good to release that pressure against them.
"You saw in the second half we were scrambling. They almost scored, Rob Kearney got in the passing channel and just managed to keep them out. When that black wave starts to get momentum and starts to crash down near our tryline you've got to fight and I thought they fought really well tonight," he said.
There was never a chasm in world rugby. Ireland had struggled to beat Argentina last week but had beaten the All Blacks. That was the ebb and flow of Test rugby.
He added that he was aware the All Blacks were near the end of a long period of time together and while you tried to manage the minds of young men, things could leak in.
"I just think they're a super team. You could throw the cards back up next week and play them again and it could be totally different," he said.
Schmidt didn't feel Ireland was the best team in the world, the All Blacks had been No.1 for nine years and in his mind they still were.
All Blacks coach Steve Hansen told SkySport he was disappointed but Ireland had deserved to win the game.
"They played better than we did on the day and they deserved the result so it's a great occasion for them and we've just got to go away and look at how we're playing, how we made opportunities and made mistakes," he said.
Hansen said he was still proud of the side, they had fought until the end and were in with a chance of achieving a draw.
"We prepared very, very well, we just played a very good Ireland side. They turned up and played well and we turned up and probably didn't play as well as we would have liked but some of that has got to go down to what they did and some of it is at times we made some poor decisions," he said.
The pressure on the All Blacks had been applied across the park by Ireland.
"They're the No.2 side, I think they're now the No.1 side because they've just beaten us so when you play a team like that the pressure comes right across the park."
The All Blacks had started to force things in the second half but in their desperation they had made poor decisions.
"We'll learn from that, again, it won't do us any harm. Once the pain goes away we'll have to have a look at what we're doing and what we can do better," he said.
Thank you for an epic Test match @IrishRugby. And that Dublin crowd, you were amazing. #IREvNZL ?????? pic.twitter.com/GyHFLxwOD4— All Blacks (@AllBlacks) November 17, 2018