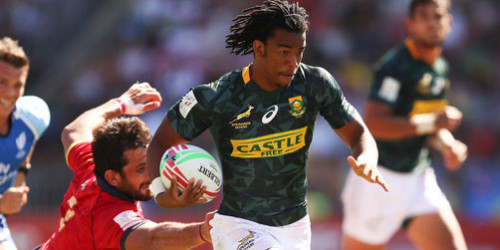 South Africa are still fourth on the points table, but are now 19 points behind New Zealand and the United States, and 15 points behind Fiji. But England are within two points of South Africa, and an improving Australian side are 10 points behind.
The top four teams at the end of the series qualify automatically for Tokyo. Six rounds remain to be played.
After making the semifinals every tournament last year, the South Africans have only made two of four in 2018-19.
Springboks coach Neil Powell said it had been a frustrating weekend.
"At times we played really good sevens, but too often we failed in some basics. We would have a good half and then follow that up by a poor one. If we can't get the basics right, we can't expect to play in finals and semifinals," he said.
The team was missing some of its usual spark and that had been evident before their game against England.
"We need to be mentally and physically ready for knockout matches and that is something we will have a look at as we get back home and start preparing for the Las Vegas event," he said.
The Las Vegas round will be played on March 1-3.
The lack of experience in the side was not an excuse for the types of errors being made but he felt lessons learned need to be acted upon quicker.
"We still need to cut out mistakes though. We conceded a yellow card again and you cannot play with six men against the likes of England, Fiji and New Zealand," he said.
Powell believed form, and not experience, might become more of a factor in the future.
"We need to be tough on ourselves in what is going wrong. We had too many slow starts in the tournament and that resulted in having to play catch-up rugby. Against the big teams that is fatal," he said.
There were encouraging signs from the playoff against Australia for fifth place as South Africa won 12-10.
"We had to tough that one out and that was good. We defended much better and it felt a bit like the old days where teams really had to work hard to get a try against us," he said.