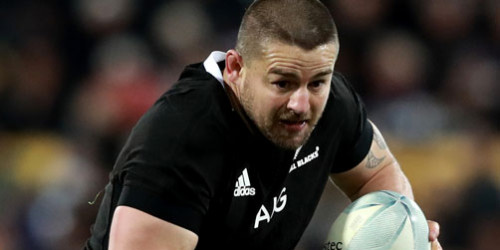 Offering a rare look inside the All Blacks' camp on Monday after a loss high on their Richter scale, conceding more points than before against Australia, Coles said it was hard not to draw the conclusion that they lacked the necessary intent that prevented them matching Australia's desperation to win.
---
It was an experience shared across the board by players and coaching staff.
"They [the coaches] take ownership of it, they don't go it's all on you [the players]. Steve [Hansen] said straight after the game 'I can be better' and I know I need to be better for us to be better on Saturday.
"They just take ownership of it and do everything they can to make sure we're better and find ways to improve. We're asleep on the plane but they're all on their laptops cutting clips to find ways we can be better, so they take it pretty hard. They're in this with us as well, they go through the wins and losses so they feel this just as much as us," he said.
But in the end it is the players on the field who were at the coal face and who had to find the level to keep their hold on the Cup at Eden Park on Saturday.
"You could see the way they played and our physicality and attitude wasn't where it needs to be and we need to match that.
"We've got some good things we took out of the review that we need to drive this week and a lot of it's about what's in here [heart] to be fair. We really lacked that on Saturday and they brought a real hunger and they're pretty desperate to get the Bledisloe Cup, so a bit of soul searching for the week and we need to embrace it and find what it means to be an All Black and get the week underway and prepare well," he said.
There were a lot of things in the review they couldn't shy away from and a lot of it was about attitude. That was the hurtful thing.

??? "We don't want to be the team to hand over the Bledisloe Cup"

Dane Coles looks towards what will be a huge Test against Australia at Eden Park this weekend. pic.twitter.com/08GaVnLwsj— All Blacks (@AllBlacks) August 12, 2019
Coles wondered if they may have taken the game a little for granted and as an All Black that was tough to take but they were lucky they had an opportunity to show themselves and everyone in New Zealand how much the Bledisloe Cup meant to them.
"We've got seven days to make sure we get to that place we need to on Saturday," he said.
""It's all about actions, not words," he said. And being purposeful and meaningful in preparation," he said.

Coles said in relation to Scott Barrett's red card that it was very hard to stop a player, low down, so close to the line but at the same time they knew if they hit a player in the head they were going to 'get done'.
"We know if we get to the head you're gone. It's up to all rugby players to make sure you've got your technique spot on because if you don't that's what's going to happen. We know the law so we've got to embrace it and find ways to make sure we don't smack someone in the head," he said.
???‍?? Preparation for Saturday has begun!#BACKBLACK pic.twitter.com/qFSWRU7mYc— All Blacks (@AllBlacks) August 12, 2019