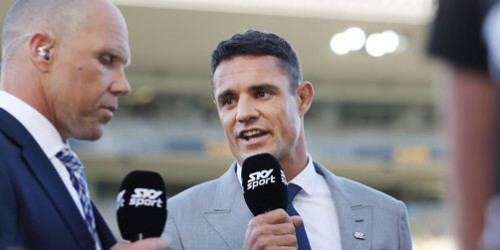 "It's Dan Carter, not Zorro," he told Midi Olympique.
Carter has been called in to assist the club who lost former Springbok Pat Lambie when he was forced out of the game due to concussion issues.
---
Carter has been playing in Japan for Kobe Steelers, who won the Japanese competition this year, since leaving Racing last year.
"We know his qualities and we are, of course, very happy. We wanted him back and we got the deal on Sunday. So it's a good thing because he joins a team whose players he knows.
"And he has not been named many times the world's best player by chance," he said.
However, the club was not expecting miracles. They couldn't expect him to turn up and makes changes just by running onto the field. He would still need good ball to work with.
Travers was not concerned at Carter's 37 years of age.
"If we had been scared we would not have done it. He will have time to prepare because he will join us in early March," he said.
Carter had not been hard to convince to make himself available. The team management submitted the request for Carter to the club president and he handled the negotiations which went well because Carter would stay with the club until the end of the French season, he said.
Meanwhile, angry Toulon club president Mourad Boudjellal has told former All Black Julian Savea he is no longer welcome at the club for whom he has scored only two tries.
It followed Toulon's 10-19 loss to Agen in which Savea was outplayed by Agen's Benito Masilevu. The result has left Toulon out of the running to qualify for this year's French finals for the first time since 2012.
Boudjellal said he was going to ask for a DNA test because the player who had arrived from New Zealand was not the player they expected.
"When you get to this level of play you have to apologise and leave. I told him he was released and was no longer welcome in Toulon. He still has one year of contract, he can do what he wants. It can be a long year for the club but very long for the player," he said.
"Some players are average because they want to leave and others because they have a cheque to take, and they cannot find a better cheque elsewhere. Many will be released," he said.
?? PODCAST | Attention all fitness fanatics and rugby fans! Get the lowdown on what makes the All Blacks one of the fittest teams on the planet with All Blacks Strength and Conditioning Coach Dr Nic Gill.

LISTEN ???? https://t.co/rSeJZ9OKaM pic.twitter.com/iHNbIE4Yfg— All Blacks (@AllBlacks) February 12, 2019