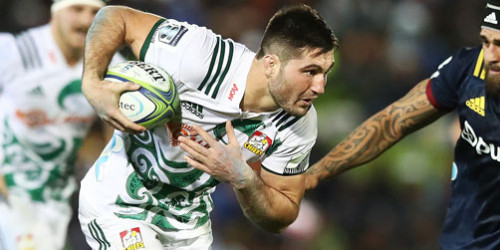 The former New Zealand Under-20s captain, who had two stints in the Under-20s, suffered the injury against the Hurricanes in the last roundrobin game in 2018. What made it worse was he came off the bench and was on the field for about two minutes when he suffered an elbow to his head.
---
QUICK TAP: CHIEFS 2019 TEAM PREVIEW
---
He got his clearance to return to contact this week after six months in which his day-to-day life was impacted quite significantly, especially in the first months.
That was when he missed the chance to work on what he had learned in Super Rugby in the Mitre 10 Cup with Waikato.
"I was really looking forward to playing in the Mitre 10 and trying to bring back to the team what I had learnt. I love playing for Waikato and I was looking forward to another place where I could try and add to my game and develop as a rugby player, but it wasn't to be," he said.
Coming in raw in 2018 Jacobson felt the adjustment was the biggest hurdle. It was a big step up from anything he had played before and it was the physicality that he noticed most.
"There's a whole lot more bigger boys and they know how to use their size better than anything I had played against before but there was the skill set as well, the decision-making was so quick. You get a taste of that at training but then it steps up even more in games," he said.
His weight had slightly increased, by 3kgs, to help him get used to the collisions which was important when at training he had Nepo Laulala or Atu Moli coming in looking to clean him out.
It had taken a game or two to deal with the extra requirements and processes he was required to do but once he started to find his rhythm he felt more comfortable.
?? How good was Brodie Retallick's 'show and go' last year? Anton, Nate and TTT take a close look at the big man's ball skills.

??? Want to catch more action live? grab your @ChiefsRugby season tickets here: https://t.co/sdHAZPTsNb pic.twitter.com/qkkipte4pL— Super Rugby (@SuperRugbyNZ) February 1, 2019
While everyone looks to get as much game time as possible in their first season, Jacobson found injuries to others increased his chances to play, including three starts toward the end of the season.
But in that time he felt his appreciation of his game, and role, had increased substantially and he felt the benefit of having Sam Cane and Liam Messam as mentors while he was learning something every day, especially aspects of play that he had never really looked into before.
"It just opens your eyes a lot to the finer things in the game," he said.
"It's been awesome, it helps you play better as well and read situations better and know what to do and when. That's the main thing, learning off other people's experiences and being guided in the right direction."
The whole rugby experience was a dream job, he got to go to work every day and do the sport he had always played for fun and you had the chance to train every day and make yourself better.
"Being at Super level we're pretty lucky. The boys at Mitre 10 have got to go to work and train in the morning and train at night and then fit in work all through the day," he said.
The Chiefs open their campaign on Friday next week when hosting the Highlanders.
Would you play it safe or raise the stakes? ??#SuperRugby coming 15.02.19. Get your tickets here ?? https://t.co/LdJdt7tc56 pic.twitter.com/yIPOHlLoiT— Super Rugby (@SuperRugbyNZ) February 4, 2019