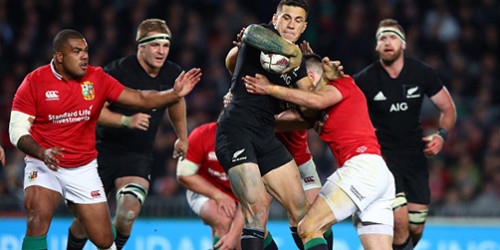 He'd called for the trash talk to finish and the rugby to do its talking. And talk it did with both sides contributing to a magnificent game of footy, played at a terrific pace, with some brutal defence, amazing skills and loads of passion.
For the British & Irish Lions, the result extends a poor run against the All Blacks – they now haven't beaten the All Blacks since 26 June 1993 and will be at long odds to win the series now because the All Blacks typically get better as a series goes on.
---
QUICK TAP: ALL BLACKS FORWARD POWER SECURES FIRST TEST
---
For Gatland, it continues a losing record against the All Blacks across three teams. He lost 10 times to New Zealand with Wales, once with Ireland and now as coach of the Lions.
He can take some solace from the fact that this was everything test rugby should be and exactly what the series needed.
Solace perhaps, but it will give him no joy. As good as his Lions were, and they were very good, they were also well beaten, a final try easing things on the scoreboard unless you consider 30-15 as the All Blacks being twice as good.
They were certainly much better than the Lions at taking their opportunities and backed up Gatland's pre-match warning that the game was always "live" with the All Blacks.
Aaron Smith showed that when tapped a penalty in front of the posts. Three passes later hooker Codie Taylor scored in the corner.
Rieko Ioane showed that when he turned pretty much nothing into a try with the sort of pace most wings dream of.

Brothers in arms... #NZLvBIL #LionsNZ2017 pic.twitter.com/uGVFSYPesc— All Blacks (@AllBlacks) June 24, 2017
He'd earlier scored after the All Blacks rammed the Lions scrum backwards, hopefully burying with it any lingering views that the Lions are vastly better in the set piece. It's just a myth.
"Our tight five was very, very good," All Blacks coach Steve Hansen said. "Since Zinzan was a cowboy if the tight five do their job everyone else can play. We won that battle.
"You don't become the number one side in the world for as long as we have been without a very good tight five.
"I always find it amusing when people tell us they will beat us up in the tight five. We don't just play flashy rugby, we can do down and dirty too."
Leading the way in that respect was skipper Kieran Read who was astonishing in his 98th Test. He hadn't played for eight weeks because of a broken thumb but was simply immense on attack and defence.
Brodie Retallick was just as good and if there is a better lock in world rugby then point him out - he certainly wasn't playing for the Lions.
Gatland had signalled with his selections that the Lions were prepared to play a bit of footy, and play they did, the try eventually scored by Sean O'Brien and started by fullback Liam Williams one of the best you will ever see.
The #AllBlacks lay down the challenge with a HAKA! The DHL New Zealand Lions Series 2017 is officially underway. #NZLvBIL pic.twitter.com/jGyfOk4lcw— All Blacks (@AllBlacks) June 24, 2017
Gatland praised the All Blacks pack and said the Lions had to lift their physicality for the second Test. He noted the All Blacks didn't play "champagne rugby" by throwing the ball around willy-nilly, instead hitting the Lions defence with direct, hard running.
He lamented his side's soft penalties, but was pleased with how they attacked.
"We created some great chances" Gatland said. "We played some lovely rugby and scored some nice tries."
Hansen could only agree with that.
"When they can score tries like that first one you're sitting there thinking they should be doing that more often, because it's one of the best test tries you will see," Hansen said.
One of the best scored in one of the better Tests you'll see too.
Now we have to wait a week for the next instalment. It will feel like an eternity.

Most Kiwis know the words to #TutiraMai, but do you know the origins of the song? Find out with this tribute to Reverend Wiremu Huata. pic.twitter.com/GPYg20qg1u— All Blacks (@AllBlacks) June 24, 2017