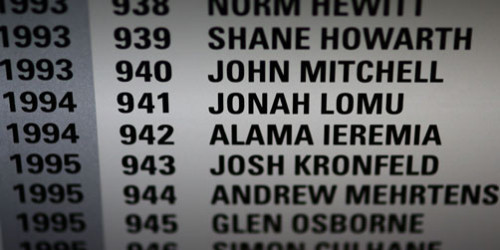 That has been the obvious in the outpouring of sadness resulting from the death of Jonah Lomu.
A sample of those talking about the All Blacks legend are listed:
Joost van der Westhuizen, who has motor neurone disease and who Lomu visited during his 'Return to Africa' documentary, "Thank you for EVERYTHING Jonah. RIP my dear friend."
Mike Catt, who Lomu trampled over for his first of four tries in the 1995 Rugby World Cup semi-final in 1995: "I still blame Will Carling. He ankle-tapped him and Jonah is then stumbling towards me, rather than standing upright. Like you do in your Under-10 days you get your feet close and you drive your attacker. Unforunately, the next thing I remember is turning around to see Jonah scoring the try. I'm lying on the floor and Robin Brooke came over to me, hit me across the cheek and said: 'Mate, that's just the start of it'. Everybody knew who Mike Catt was afterwards, but for all the wrong reasons."
All Blacks skipper of the day Sean Fitzpatrick: "He was iconic and a gentleman. He was an absolute legend of the game, its first global superstar. He set the world alight at the 1995 World Cup in South Africa, more than 19st, 6ft 5in who could run the 100m in 10.5s. Defences had not seen anything like him before."
Would of done anything to have played a test with him. Gone way too soon my brother #ripjonah pic.twitter.com/tb8ZLROKfu— Dan Carter (@DanCarter) November 18, 2015

Since I was a little boy all I wanted to do was be like you.!! Thanks for the memories big man #RIPLomu pic.twitter.com/u6Jm267LI1— Tj Perenara (@Tj_Perenara) November 18, 2015
Former England football captain David Beckham: "So sad to hear the news about this amazing giant of a man, a sporting hero and one of the nicest people you could ever wish to meet. A credit to his country, his family and to the sport that he passionately played. Jonah, you will be missed."
Former All Blacks team-mate Zinzan Brooke: "There will never be another Jonah. There might be wingers who score more tries and who knows there might be a couple of bigger boys but no one will ever replicate the impact that Jonah had on rugby. Only a handful of athletes have changed the face of a sport – Tiger Woods in golf, Michael Jordan in basketball, Pele in football. Jonah belongs in that bracket. He revolutionised rugby and transformed the way rugby was perceived and consumed."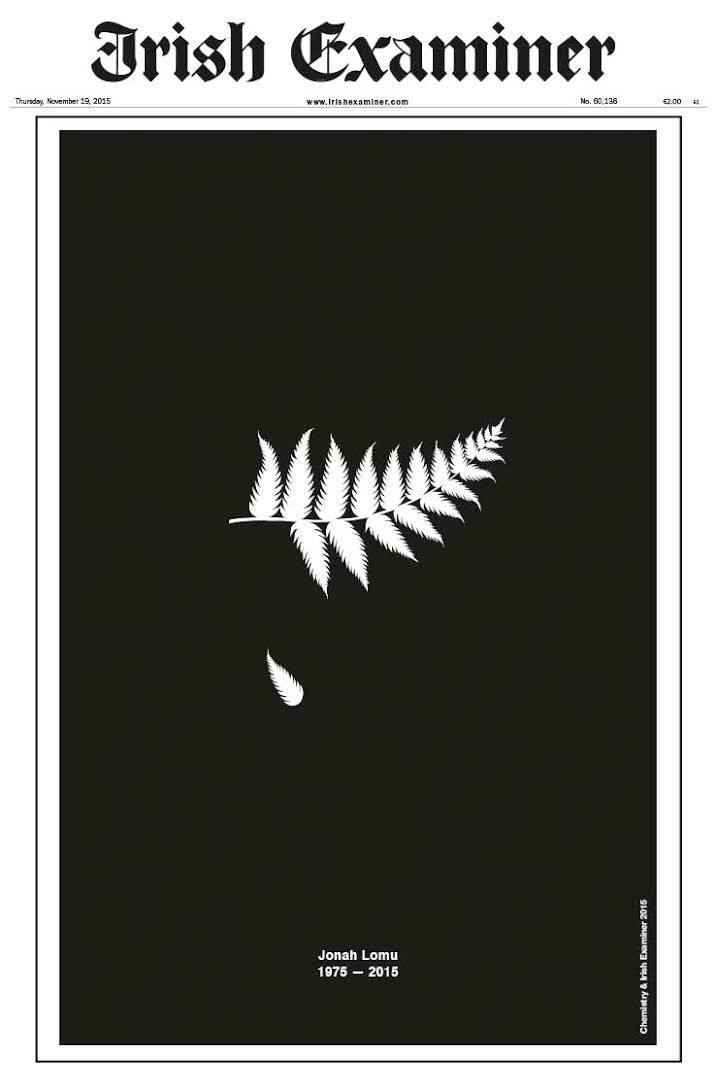 Former All Blacks team-mate Doug Howlett: "He was the guy in the All Blacks that always looked out for new members. He was the first true global rugby superstar, but the fact is, within the squad environment he was just one of the lads. If anybody could lose their head you would almost allow him to because of his stature in the game but he never did that, it was always team first and these are the things you remember and that you pass on."
Former England and British and Irish Lions coach Sir Clive Woodward recalling a team talk before New Zealand played England at the 1999 World Cup: "I remember saying at a team meeting on Friday night that there was nobody in their team would get in our team and man for man I wouldn't swap anybody and was doing my motivational talk. When I got to the end Will Greenwood put his hand up and said, 'Clive, we're all with you but I think I'm speaking on behalf of all the team and I think we'd probably swap [halfback] Austin Healey for Jonah Lomu'."

A very sad day. England Rugby mourns the loss of a true legend of the game. #RIPJonah pic.twitter.com/uUp2tKMUj4— England Rugby (@EnglandRugby) November 18, 2015

Rugby family mourning the loss of a true legend. Thoughts & condolences with Jonah's family at this difficult time. pic.twitter.com/WjRGoorLwB— World Rugby (@WorldRugby) November 18, 2015

IOC President Thomas Bach Honours Jonah Lomu | https://t.co/lTA2PMGIde https://t.co/Xys9vOfrms via @nzolympics— NZ Olympic Team (@nzolympics) November 18, 2015