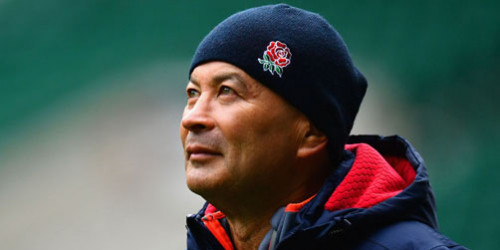 Jones told englandrugby.com that the side will not start thinking about the World Cup until after next year's Six Nations tournament. And that was because the players knew there were things they still needed to do, including making the squad.
---
"We don't need to peak now, and we don't need to peak before. We need to peak for the final on November 2, and that's the secret to a Rugby World Cup campaign," he said.
England will host the All Blacks at Twickenham on November 10 in a much-anticipated Test but he wouldn't be falling into the trap of taking the All Blacks on at their own game.
"New Zealand are the benchmark of international rugby and everyone attempts to copy them but you can't copy something. You have to come up with your own way of playing and particularly for the English, it's important we keep being English.

UPDATE | #AllBlacks loose forward @SamCane7 is up and about after his successful operation in South Africa. Sam would like to thank everyone for all the support he has received from around the world, he is set to make a full recovery. ?? pic.twitter.com/sdbeSMHVkI— All Blacks (@AllBlacks) October 9, 2018
"That's not to say we can't evolve," he said.
England needed to have clarity in how it was going to play.
Thirty months into the job of coach he said he had always seen it as a four-year project.
"The first year was about establishing a foundation which I think we did reasonably well and we probably had more success than we were entitled to have.
"The second year was about making sure you have the foundation right and we did quite well.
"The third year is always the most difficult year as you have got to make changes, as some of the team you have had for the first two years may be at the end of their careers, so you have to regenerate the team and, as we've found, there is some pain involved in that.

STATCHAT | Channel your inner ?? and catch up on all the key stats and numbers from the 2018 Investec #RugbyChampionship!

?? https://t.co/L6zoT0Plph pic.twitter.com/Z7ZhuPIKf7— All Blacks (@AllBlacks) October 10, 2018
"Winning is not a straight line, but I think we're in a great position," he said.
Jones said that former Prime Minister Paul Keating had provided an early idea for him in coaching. Keating had written, "Whenever you are starting out on a career go and find the people who are about to retire because they will tell you everything."
That was because they had nothing to hide and they wanted to share, so Jones said he had consistently talked to coaches who had been in the game a long time and who were towards the end of their careers.
"I'm getting to the stage now where people are coming to me. I've always shared my information, I've never hidden it and that makes you more urgent to find new ways of doing things," he said.
Jones said that during his time coaching in Japan, before his England appointment, the biggest influence on him was football coach Pep Guardiola, now coaching Manchester City in England's Premier League. Guardiola's approach to beating bigger teams had been helpful in Jones plotting a way for the Japan side to be more competitive, culminating in the triumph over South Africa at the 2015 World Cup.
?? Happy 30th birthday to 105-Test All Blacks lock Sam Whitelock. To celebrate, check out this try he scored against South Africa in 2016. #HappyBirthday #TeamAllBlacks#HappyBirthday #TeamAllBlacks pic.twitter.com/2YGARDry3t— All Blacks (@AllBlacks) October 11, 2018