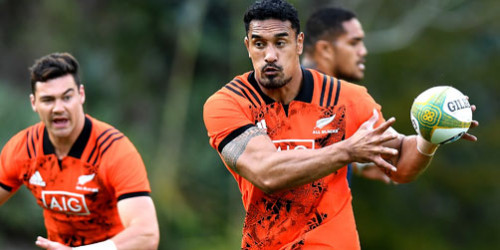 It was as something of an apprentice on the All Blacks' 2004 northern tour that he made his first appearance in the black jersey against the Barbarians, marking the occasion by scoring a try.
---
He said if he got the chance to play again it would have special significance for him, but he was also keen to get some match action as he hadn't played as much rugby as he would have liked this year.
"It has been special watching the next crop of guys taking their opportunities. It's good to be able to see how they can take their chances. A couple of them, Vaea [Fifita] and Liam [Squire], have been playing awesome but on the other hand it's driven me to hopefully work harder to be able to take my opportunities," he said.
Kaino recalled that his debut in 2004 had been the result of a lot of things happening quickly. Selection had come after one of his first NPC campaigns.
"It was all so crazy, but at the end of that tour just learning through players and then obviously getting the opportunity to put on the black jersey was special," he said.
At the same time Kaino was also aware that a new crop of players were involved in this year's tour. He said he was excited to see all of them play but because of his involvement with wing Matt Duffie at his Blues franchise he was keen to see him perform.

WATCH All Black Jerome Kaino is refocused and raring to go ahead of the first Vista Northern Tour Clash this weekend. #BARvNZL #VistaNT pic.twitter.com/beQRYUtpgY— All Blacks (@AllBlacks) October 31, 2017
"I've seen how hard he's worked to come back from back-to-back ACL injuries and really work hard to re-establish himself, and knowing how to play rugby again, but also in the last few seasons he's really found his feet in the game and played really well and been rewarded.
"Also, from a young player's perspective [hooker] Asafo Aumua, how he trots around the field and how he's been scoring tries at Mitre 10 Cup, I'm really excited to see what he can do. He's still a baby but I think he's more than ready to be able to put on a Test jersey," he said.

Kaino said it was important in this weekend's game when there were not so many senior leaders involved that the side maintained their All Black standards.
"We have a level of preparation that we expect everyone to adhere to and live by regardless of the opposition, of who we're playing. It's a little bit tougher preparing against the Barbarians because you don't have that footage to look at and see patterns and trends of what they do.
"What we do know is that there'll be a few trick plays, knowing Razor [Robertson] who will be involved, he'll have a few trick plays up his sleeve and I think you can pick some tendencies because of the individuals that are involved. There are quite a lot of Kiwis involved and a lot of us have played with a few of them so we can pick a lot of trends and tendencies that those individuals have.
"For us it's all about how an All Black prepares for a Test match and making sure that we do that to the best of our ability," he said.
Lock Scott Barrett has his own motivations for wanting to do well on his second northern tour. He said there had been some big moments during his season, including an Investec Super Rugby title and involvement in the British & Irish Lions series, but he felt in the last two Tests he hadn't been at the standard he would like to be. That highlighted the challenge was to get better each week.
He felt there were some 'big mental shifts' in the game that he could improve on.
"[There are] certain parts around defence that I am looking to improve and I've been working on this year," he said.
Hard at work! The #AllBlacks have hit the gym in London ahead of their clash with @Barbarian_FC this weekend! ??????????‍?? pic.twitter.com/Bys3LjC8rl— All Blacks (@AllBlacks) October 31, 2017