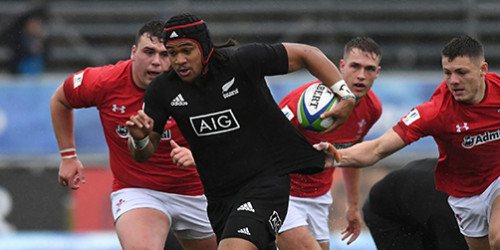 It was an upsetting loss for New Zealand who dominated possession throughout the match but just couldn't finish off their opportunities and made a number of uncharacteristic handling errors in the face of a steely Welsh defensive line.
---
QUICK TAP: SEVU REECE CROWNED ROOKIE OF THE YEAR
---
Wales only previous victory against New Zealand at the World Rugby Under 20 Championships came back in 2012 when they snuck home 9-6.
It took them just 18 minutes to do what they couldn't do in the 2012 victory when they crossed for a try. It was an opportunist effort from Wales second five-eighth Tiaan Thomas-Wheeler who hacked ahead a fumbled ball in midfield and won the race to the line ahead of the New Zealand chasing pack.
It wasn't until the 70th minute when New Zealand went ahead for the first time in the match through a try to lock Tupou Vaa'I from a lineout drive. The try was the result of a period of constant pressure on the line and showed that Wales would not give up points easily. The conversion from Fergus Burke was good to give New Zealand the 7-5 lead with 10 minutes remaining.
Final whistle moment! @WelshRugbyUnion team goes wild as they secure just their 2nd ever win over New Zealand at U20s level #WorldRugbyU20s pic.twitter.com/6wFM2W2sW3— World Rugby (@WorldRugby) June 17, 2019
Wales have been steeled by a competitive Under 20s Six Nations campaign and showed their composure by working their way into the New Zealand half and forcing a penalty to snatch the famous victory.
The New Zealand Under 20s will face Ireland in the seventh place playoff match at 6.30am on Sunday 23 June. Catch the coverage live on Spark Sport.
In the semifinals, Australia stormed to a 34-13 win over hosts Argentina while France outplayed South Africa 20-7. Australia and France will meet in the final at 6.30am (NZT) on Sunday with France chasing back-to-back titles and Australia out for a maiden crown.
Scorers:
New Zealand 7: (Tupou Vaa'I try, Fergus Burke con) Wales 8 (Tiaan Thomas-Wheeler try, Cai Evans pen)
FT | It doesn't get much closer than that! Congratulations @WelshRugbyUnion on a great victory.#WorldRugbyU20s pic.twitter.com/yBajIlHgPH— All Blacks (@AllBlacks) June 17, 2019