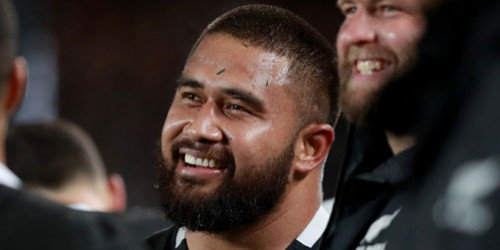 He secured his place while one of the legends of All Blacks front row history Owen Franks missed the call. It was the shock of the selection announced on Wednesday.
---
Laulala, who has overcome a string of injuries that would have frustrated many, had his own cause for satisfaction but Franks' absence reinforced the job that lies ahead for the All Blacks front rowers.
Laulala said he was at home with his wife and son when hearing that he had made the World Cup side.
"My wife got pretty emotional and it was a very special moment," he said.
While his road to the World Cup was strewn with many injury frustrations, Laulala said he never gave up because he said he wanted to be able to look at himself in the mirror, and at his family, and say that he given playing again his best shot.
"There was definitely a couple of times when it felt hard to carry on but I just didn't want to let my family down and that was a big driver for me," he said.
Older brother former All Black Casey Laulala, who is now coaching with Toulon in France, had been in touch during a Laulala siblings phone call and was stoked for him while his sister had been 'pretty emotional' too, he said.
The fact that his place in the side came without Franks being alongside was something he had not expected at all.

?? What a day in Gisborne! Thanks to @FlyAirNZ for getting @SIX60 and the boys to Gisborne for All Blacks to the Nation 2019!#BACKBLACK #AB2N pic.twitter.com/IVuEkiLyWn— All Blacks (@AllBlacks) August 30, 2019
"I have a lot of time for Owen, I honour the man for what he has given to the game, to the country. He is just generally a good man. I am deeply gutted for the man. I am sure a lot of people out there were deeply blindsided by this too," he said.
Laulala said he knew from his own disappointment in missing selection for the 2015 World Cup that Franks would be feeling it and he would be giving him some space before he got in touch with him.
Laulala had benefited from Franks' experience when with him in All Blacks camps.
"He's a man of few words, but he leads a lot by example. To me he is the most professional and most disciplined man that I've ever seen. He has been a role model and I have a lot of respect for him."
"As soon as I heard my name called I switched to the realisation that there is a job to be done. We've all got a big job to do, not just me. There's good competition in the team and I've just to make sure I stay true and faithful in my training and hopefully I keep getting opportunities," he said.
Laulala had a taste of the sort of pressure the All Blacks can expect to feel when being involved in the Bledisloe Cup game against Australia at Eden Park nearly two weeks ago. While there was expectation to perform on the side after their shock record loss to Australia in Perth a week earlier, Laulala said he tried not to let any of the outside influences affect his preparation.

How good! Three Barrett brothers heading to #RWC2019 ??????#BACKBLACK pic.twitter.com/fsk9n1nh2i— All Blacks (@AllBlacks) August 28, 2019
"I felt really good, just shutting all that out and focusing on my preparation. Opportunities don't come around that often in this environment and it is all about just trying to make the most of your opportunity when you do get it," he said.
It helped to be part of two massive seven-man scrums either side of halftime that poured the pressure on the Australians in the traditional coalface of the game.
"The back five were firing that night, all the boys were firing and it was just a big attitude change," he said of the scrum achievements.
One of the issues Laulala had as a prop attempting to recover from injuries was the different type of fitness he had to achieve. While it was still possible to run and do other aspects of fitness work, scrummaging required specific preparation and it meant building up by going back to the roots of the game and playing club rugby to get back up to relative strength.
"It's hard to have a feel of different situations. You can be super strong in the gym but it is a mental thing too and knowing what to do in different situations in the scrum. If you've been out for a while it is crucial to make sure you nail it," he said.
Scrum rulings brought in just before the Rugby Championship had required a lot more discipline not to collapse scrums. But while it was a different challenge it was still early in its implementation to be able to make an assessment of the benefits it could provide.
That all lies ahead for Laulala and the All Blacks as they build towards their collective goal of a World Cup win, something that if achieved, would hold more significance for Laulala.
ICYMI | Here is your All Blacks squad for the 2019 Rugby World Cup.

FULL STORY ?? https://t.co/YljUMt2rda

Leave your messages of support for the boys below ???? pic.twitter.com/9MPg5HQXG0— All Blacks (@AllBlacks) August 28, 2019