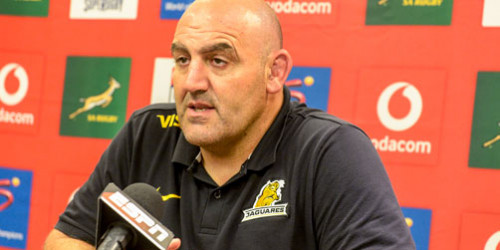 Ledesma told media in Buenos Aires after being announced as the Argentine coach that he was surprised at the quick turn of events.
"Being the captain of the ship fills me with pride. I'm not intimidated by the pressure," the 84-Test cap veteran said.
At the completion of his playing career, highlighted by helping the Pumas to third place at the 2007 Rugby World Cup, Ledesma started his coaching career in France and then continued in Australia.
"I went to Australia as a spy, just in case I would come back to coach in Argentina. I didn't think I would come back so soon. I'd always dreamed of coaching the Pumas," he said.
The chance arose after the shock resignation of Daniel Hourcade and his coaching team after the June internationals against Wales and Scotland.
In his time coaching, Ledesma built a strong bond with Wallabies coach Michael Cheika. He was his forwards coach with the Waratahs, then in France at Stade Francaise and Montpellier before he was appointed to the role with Australia.
Looking to the Investec Rugby Championship Ledesma said: "We need to improve as a team. It's defence that wins you games.
"When we're on top we're dangerous and we score, but when we're under the cosh we concede too many points," he said.
Now ranked 10th in the world the Pumas have the job ahead of them to recover their former status.
Former Argentina manager Rau Sanz said the Pumas had lost their identity but Ledesma and his assistant Nicolas Fernandez Miranda would bring it back and the tackle would be central to that along with scrummaging, pressure and attack.
Ledesma said he wasn't intimidated by the pressure associated with his role.
"We are at a socially important moment to be responsible, to plan, to work…we are really facing a huge challenge.
"We want to strive for excellence. Not to the result, but to the processes that lead to the results. Our idea is to be based on work, without taking away a gram of creativity, spontaneity," he said.
It was a case of harnessing the 'madness and passion' in the side and balancing it with order and organisation and having done that, to strive for excellence, he said.
"We are inspired by those who do the best things – the New Zealanders – as an example. They make things all the same, they all have the same techniques.
"We will look to improve every day, to get to the Rugby World Cup in Japan next year. What we do daily now will pay off there," he said.
Argentina play the All Blacks in Nelson on September 8 and in Buenos Aires on September 30.