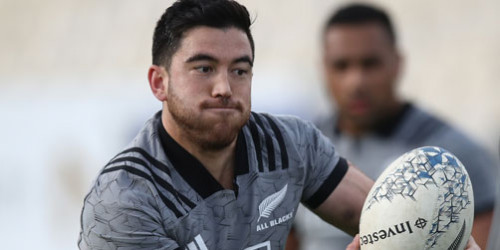 Milner-Skudder said it had been a thrill to have his name read out in the side after another rollercoaster year.
---
Since returning in the latter stages of the Investec Super Rugby season he had been playing at fullback for the Hurricanes but was sent to his Manawatu Mitre 10 Cup side to get some play on the wing. That had been doubly beneficial for him in getting some game time in his home town but also keeping in touch with what was happening in the Manawatu side where there were plenty of new faces.
It had been frustrating having to go through a second injury knockback but using what he had learned the first time around had helped.
"I guess my mindset was the biggest thing I had to deal with and overcome, so I had all the right people around me to put my rehab and do all that stuff and nail that. So it was just a matter of staying positive and that sort of paid off in a lot of ways," he said.
Being back in the side helped make all the tough times and hard work worthwhile. He said he felt stronger as a result of the experience.
Fellow Hurricane Ardie Savea, who will be starting on the open side flank, said it had been tough watching Milner-Skudder go through his rehabilitation twice. But he was one of the most professional people he had met and he was always in the gym doing his rehab.
While he had never gone through the sort of injury break Milner-Skudder had endured he was well aware of what he had gone through to get back in the side and it was 'awesome' so see him get his chance against Argentina.
Savea said he was excited to have a starting role again and while they faced Argentinian players more regularly through Super Rugby, he didn't think it got any easier at Test level. They were always tough, he said.
"Every team gets up when they play the All Blacks and we know the challenge they are going to bring and hopefully we can nullify that and match that," he said.
Savea said he was also looking to playing alongside Shannon Frizell, who is starting on the blindside flank. Frizell was a player who didn't say a lot but you knew he was going to bring plenty of physicality and fizz on Saturday, he said.
He was expecting their combination, in partnership with captain and No.8 Kieran Read, would have a big job handling the Argentine loosies because they were the biggest ball carriers in their side.
Knowing the Argentinian fondness for off-loading ball it would be up to the All Blacks to get into the right positions on the field to shut down the channels that would enable them to play in that way.
"We've been working hard on that this week and hopefully on Saturday it works out," he said.

?? STORY | Fresh from a big win over the Springboks, Argentina are ready to continue their improvement against the #AllBlacks this weekend.

?? https://t.co/KRwhcphg84#NZLvARG pic.twitter.com/i80HGNfXP9— All Blacks (@AllBlacks) September 6, 2018