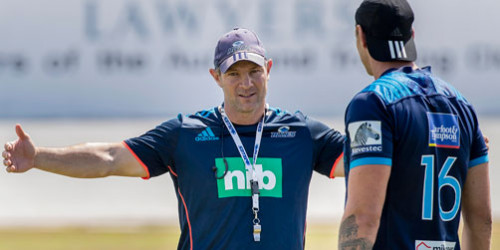 He was happy with the pre-season work the side had put in and he wanted to see that reflected in the effort on the field in Saturday night's opening game. Then it would be a case of assessing that and starting preparation for the second week.
---
The side would not be getting ahead of itself. The competition wasn't decided on a first round result and while a win first-up would be nice, it wasn't the be-all and end-all for the Blues.
MacDonald said there had been a balancing act involved in the selection of the side as a result of a desire to reward those who had put in the hard work during the pre-season while also balancing including some of the returning All Blacks who hadn't had the chance for game time.
Meeting his old side the Crusaders was a great start for the Blues given the success the Crusaders had enjoyed and his own involvement was only a little piece of the flavour associated with the game.
MacDonald explained that coaching style evolved from years of playing under different coaches and then working with other coaches after stepping away from playing.
"There's been things I've learnt as a Crusaders player and my time coaching but also time with Tasman as well so I'm very fortunate. I've got a lot of good mentors I talk to regularly and always try to improve myself as a coach so you end up with your own formula in the end and there will be an element of my time with the Crusaders," he said.
As a coach he was keen to see the hard work put in during the season reflected on the field with the team members individually playing to their potential in any given week.
Round one was always a little more nervy, he said, but he was looking forward to the season getting underway.
It would be a big game for Ma'a Nonu, who is named at centre, and he would probably be as nervous as some of the younger players. There would be a lot of eyes on him but he would excited about playing in New Zealand again.
He said Nonu would handle playing at centre outside TJ Faiane. The position was fluid and both filled similar roles.
MacDonald said Otere Black's start at first five-eighths was long awaited after injury denied him last year.
"Ots is nearly a cut from the old school with his rugby nous from 10 [first five-eighths]. He directs the game really well, he's got a good boot, he's very sound and calm in the way he delivers his messages on the field and I think he's just what this group needs at the moment for this game. Considering it's round one he'll be a nice calmer and a cool head under the pressure," he said.
Dalton Papalii would be starting on the openside flank in his first outing since returning from the All Blacks end-of-season tour last year.
"He's shaping up really well. We all know that he's keen and enthusiastic and he'll get stuck in 100 miles an hour and we're looking forward to seeing that on Saturday night," he said.
Blindside partner Tom Robinson had impressed the coaches with his work ethic and commitment.
"He's physical and he'll go right till the final whistle and probably run off the field at the end of it. He's got a great future ahead of him. The way he throws his body around if he can keep in one piece he's going to be fantastic," he said.

The Blues team to play @crusadersrugby this Saturday at @edenparknz

Be there??: https://t.co/raAbgw6rU7#RiseUp #BluesAllDay #BLUvCRU pic.twitter.com/YbzizhCsvq— The Blues (@BluesRugbyTeam) February 13, 2019