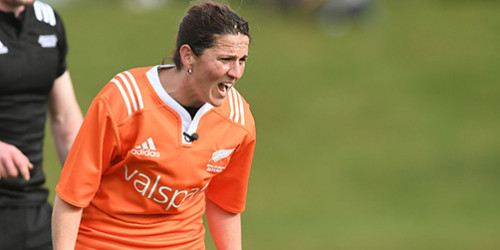 The 35-year-old referee last weekend became the first woman to take the whistle for a men's first-class fixture, when she took control of the Thames Valley-King Country Heartland Championship game in Te Aroha. Mahoney (nee Hull), who played 16 Tests for the Blacks Ferns as a first five and is a two-time WRWC winner (2006 and 2010), will also officiate in two other Heartland Championship games this season.
---
EXCLUSIVE COLUMN: LORDE, JACINDA AND THE FARAH PALMER CUP
---
She has made good strides in short time since taking up refereeing in 2015 after hanging up the boots and is now New Zealand's No 1 women's referee. But she has been promoted on merit to men's first-class rugby.
"To be fair, I didn't expect this opportunity, as there are so many fantastic male referees out there. You are just competing with the best. It's not a male versus female thing," Mahoney says.
"There's a huge difference between men's and women's rugby in terms of how the structures are played, the physicality and probably just me not getting in the way! I love reffing women's rugby, but equally men's rugby too."
Hailing from Eketahuna in northern Wairarapa-Bush, and known to most as Becs, Mahoney has taken charge of several men's premier club games in that union this season, which will serve her in good stead for her latest challenges. She has also done a lot of sevens refereeing, which has kept her fit.
There are other subtle differences between the men's and women's game, but Mahoney is relaxed about the transition after taking the whistle for two Farah Palmer Cup games this season.
"It's a strength of women's rugby that we talk a lot. My husband would be the first to say that. It's louder and there's a lot more chatter on the women's field, whereas in the men's game they tend not to talk as much," she says.
As a former top No 10, Mahoney is following the likes of New Zealand's top referee Glen Jackson. A good understanding of the rugby law book and the nuances of the breakdown are imperative, but just because she has played for the Black Ferns does not mean she is automatically accorded the respect of the players in games she controls.

NEWS | Referee Rebecca Mahoney will make NZ rugby history in the #HeartlandChampionship this weekend.

READ ?? https://t.co/jeQPiXJ7Wx pic.twitter.com/u1ZaU5D8bB— Mitre 10 Cup (@Mitre10Cup) September 11, 2018
"You still have to prove yourself as a referee. I think Jacko would agree. I'm still trying to prove that and as refs we are always trying to prove that."
Mahoney fell into refereeing almost by accident. There was no deep-rooted desire to take up the whistle as soon as her playing days were over.
"I might have chatted to Dad about it. I thought 'Well, I have two young girls who need their Mum at home,'… which hasn't happened. In fact, I have travelled more as a referee than I ever did as a player."
Support has come from her coach and mentor Harry Quinn, while NZR national referee manager Bryce Lawrence and former international referee Paul Honiss have provided welcome support for her as she has developed her refereeing.
Mahoney has a farming business with husband Luke (not the former Wellington hooker) and, between that, her two girls, her training and referee work and travel, there is little room to squeeze much more out of each day. But it provides her with sound balance in her life.
Mahoney has one Test match under her belt, a WRWC 2017 qualifier between Hong Kong and Japan. She would love to do more but admits she would never enjoy having to referee a women's Rugby World Cup final, as that would mean her beloved Black Ferns would not be involved. That has only happened once before since 1998, in 2014.
She says the Farah Palmer Cup is going from strength to strength, even in the 2-3 years she has refereed in the competition.
"The development is phenomenal, through players, coaches and management. It's neat to see girls I played with still involved. It's exciting to watch. I refereed the Wellington-Canterbury match. That was an 80-point thriller, is how Bryce described it to me. It's good, positive rugby and there's not too much niggle," she says.
Who knows where Mahoney may eventually end up in the refereeing ranks, but she is certainly on the up.
???? We all know the amazing role that women play in our great game of rugby and now we have the chance to celebrate them through the #WahineRound! ??????

READ ?? https://t.co/pb3YauVhhY pic.twitter.com/DX6d6xXNKK— Black Ferns (@BlackFerns) September 16, 2018