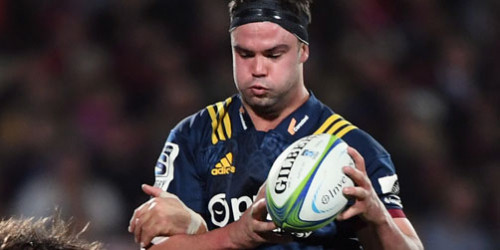 Highlanders lock Tom Franklin said the loss, the first suffered by the Maori All Blacks against Fiji since 1957 had been a wake-up call for the side.
"It was a bit of a smack in the face but the boys are keen for a bit of redemption," he said.
---
QUICK TAP: TA'AVAO RELISHING HIS CHANCE WITH THE ALL BLACKS
---
"We've been working really hard and everyone has been doing their part behind the scenes to get ready to prepare to go to battle again and try and redeem ourselves.
"We're very excited about the opportunity and can't wait."
Franklin said they were not surprised by the way Fiji played. They were a nation on the rise and in the top 10 in the world.
"We knew they will full of firepower with guys who played in Europe. We knew all about that. But they were disciplined in how they played and they held the ball for long periods of time, pinned us in our half and obviously they've got that Fijian flair with the offloads that are pretty hard to stop, so full credit to them, they played pretty awesome," he said.
The Maori review of the game showed they needed to defend better because they had gone individual in their defence and that had allowed the Fijians to offload with effect and get over the advantage line and behind the Maori defence.
'We were also playing into a pretty heavy head wind in that first half and we didn't really adjust that well tactically," he said.
The focus this week had been on being smarter across several smaller aspects of their game.

?? No you didn't! Fiji are set to bring their trademark flair to Rotorua when they take on the Maori All Blacks this weekend.

??? Tickets start at just $10 for kids. BOOK HERE ?? https://t.co/fYiaWgtQB4 pic.twitter.com/G9aq8P2M0V— All Blacks (@AllBlacks) July 17, 2019
Franklin did not think the fact they hadn't played together was an excuse.
"We are all good enough rugby players, we've played Super Rugby for a while and we should have been better at the weekend than we were, so we're looking forward to the next game," he said.
Having not played for a few weeks since the Highlanders were knocked out of the Super Rugby quarterfinals Franklin said the rest had been good but the match fitness was down a little and he had been a bit sore after the Suva game.
"But I loved it, I love playing for this team and running out in the Maori jersey and every chance I get to do that, I don't take it for granted and I loved it for sure," he said.
Moving the Maori programme forward to the middle of the season was good and provided more chances to pull on the silver fern and represent New Zealand and the team's culture.
"It's pretty special, and we're pretty lucky and privileged," he said.
Playing under World Rugby's new scrum laws for the first time at the weekend Franklin said there was a requirement to be more disciplined and to hold balance.
"We've got a talented front row and they know what they are up to so we felt we adjusted to the new rules quite well and will keep building on that. It's only a minor adjustment but you have to be disciplined, especially when you're tired and the legs are heavy," he said.
?? Can the Maori All Blacks bounce back from last week's loss to Fiji when they meet again in Rotorua this weekend? SKY Sport's Breakdown team take a close look.

? Saturday 20 July, 7.35pm
??? Rotorua International Stadium
??? https://t.co/fYiaWgLrsC
?? @SkySportNZ
?? #MABvFIJ pic.twitter.com/n9N50DbNac— All Blacks (@AllBlacks) July 17, 2019