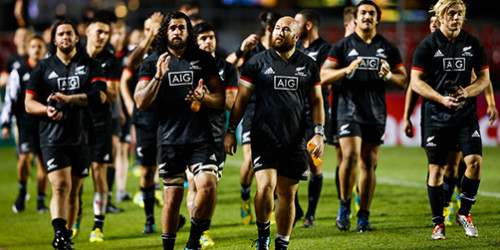 The team is:
1: Ross Wright (Northland) - Ngati Whatua / Ngati Porou
2: Ash Dixon (Hawkes Bay) - Ngati Tahinga
3: Tyrel Lomax (Tasman) - Ngai Tuhoe / Muaupoko
4: Jackson Hemopo (Manawatu) - Tuhourangi / Ngati Wahiao / Ngai Tahu / Ngati Rangi / Ngati Apa ki te Ra To
5: Pari Pari Parkinson (Tasman) - Te Whanau a Apanui
6: Reed Prinsep (Canterbury) Te Rarawa
7: Mitch Karpik (Bay of Plenty) - Rongomaiwahine / Ngati Kahungunu
8: Akira Ioane (Auckland) Ngapuhi / Te Whanau a Apanui
9: Bryn Hall (North Harbour) - Ngati Ranginui
10: Otere Black (Manawatu) - Ngai Tuhoe / Te Whanau a Apanui / Ngati Tuwharetoa
11: Matt Lansdown Waikato Te Atiawa
12: Rob Thompson (Manawatu) - Ngati Kahungunu / Nga Rauru
13: Matt Proctor (Wellington) - Ngai Te Rangi / Ngapuhi
14: Shaun Stevenson (North Harbour) - Ngapuhi
15: Josh Ioane (Otago) - Te Rarawa
16: Robbie Abel (Auckland) - Ngati Wai, Waikato-Tainui, Ngati Hine
17: Chris Eves (North Harbour) - Waikato / Tainui
18: Marcel Renata (Auckland) - Ngati Whanaunga / Ngai Takoto
19: Isaia Walker-Leawere (Wellington) - Ngati Porou
20: Billy Harmon (Canterbury) - Ngai Tahu
21: Sam Nock** (Northland) - Ngapuhi
22: Teihorangi Walden (Taranaki) - Te Atiawa
23: Jonah Lowe (Hawke's Bay) - Ngati Pikiao
Head Coach Clayton McMillan has tweaked the front row combination with Ross Wright and Tyrel Lomax packing down either side of their skipper and hooker, Ash Dixon for their team's last stop on their end of year tour.
Wright and Lomax are two of six players to move from last week's bench against Brazil to this week's run on side, with Jackson Hemopo, Bryn Hall, Mitch Karpik and Matt Proctor all getting a starting run this weekend.
McMillan said the squad had settled well in Chile with the travel a little easier than the previous leg.
"It's been a fantastic week and like last week in Brazil, the Chilean community have embraced us and they've made us feel very much at home.
"We want to finish our tour on a strong and positive note. Last week's weather conditions weren't really conducive to our preferred style of rugby, so we are hoping to be able to show off our brand of Maori rugby where it's fast, fun, and entertaining to watch. We have focussed on the whole team re-setting after last weekend's gruelling match against Brazil. It's a new week, and we're certainly excited about what Chile has in store for us. Like Brazil, Chile is a bit of an unknown so it's hard to know what to prepare for, but if it's anything like last week, they'll play with passion and they will be filled with confidence playing their chosen sport in front of a home ground," McMillan said.
Match details
Chile v Maori All Blacks
Where: SKY Sport 2 in New Zealand or live stream for free at
www.allblackstv.com
in territories outside New Zealand and Chile
When: Sunday 18 November, [K/O 8.00am NZT]
Live stream the Maori All Blacks v Chile match, FOR FREE! The full replay is also available following the live stream.

Get set up ?? https://t.co/SekDP22WFB

Only available in selected countries pic.twitter.com/uWsiwUnVjd— All Blacks (@AllBlacks) November 15, 2018