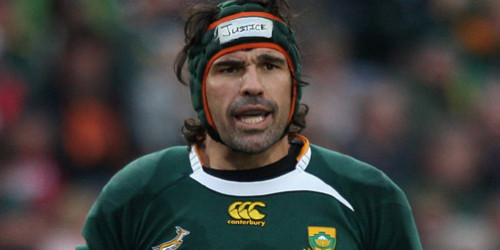 The Bulls lock was speaking to reporters in Bloemfontein on Thursday ahead of South Africa's competition opener against the All Blacks, who kicked off the tournament last week with a 22-16 win over Australia.
Matfield has experienced almost everything there is to experience in rugby, winning a World Cup, Super 14 and Currie Cup titles, while his latest achievement with the Springboks was claiming a much-prized series against the British and Irish Lions.
However, he still feels that the Tri Nations offers something different and is keen to push for the title this season, starting with victory in Saturday's Test at Vodacom Park.
"The Lions series was very big for us, especially because it only comes around once every 12 years, but the level of play will certainly lift now that we're going into the Tri Nations," he said.
"New Zealand and Australia are the two top teams, they are the ones you measure yourself against.
"To be No.1, they are the teams that you have to beat. So I still believe the Tri Nations is the toughest competition in rugby.
"Playing the All Blacks is still the ultimate test and to stand in your Springbok jersey facing the haka - it gives me goosebumps just thinking about it."
The game in the Free State comes fresh off the 2-1 series triumph over the Lions, but Matfield knows that it will not be easy, even though the host has been installed as favourite to win the competition it last won in 2004.
Matfield continued: "It's tough to say which way the series will go, particularly after New Zealand beat Australia last weekend.
"It won't be easy but in my eight years of being with the Springboks I've only won one Tri Nations. It would be good to win another one.
"We have a huge game on Saturday, and starting at home we need to start well to be in with a chance in this competition."
Asked what he thought of New Zealand's chances, he said: "It is tough to fly out to South Africa and play so soon after, but I think it is more the altitude that is going to be tough for them.
"But in saying that, they have come out to South Africa in recent years and scored some good wins on the Highveld, but altitude is a factor and we must look to put them under pressure and keep them under pressure."
Much has been made about the draw by opposing coach Graham Henry, whose side must play the Springboks twice in South Africa and then travel to Sydney for a clash with Australia, but Matfield feels that there is no easy way out in the competition.
He added: "You don't get a favourable draw in the Tri Nations because you have to play three games away and three at home.
"Two games in a row against the All Blacks is as tough as you get. If we can win, we will get the momentum going quite nicely."