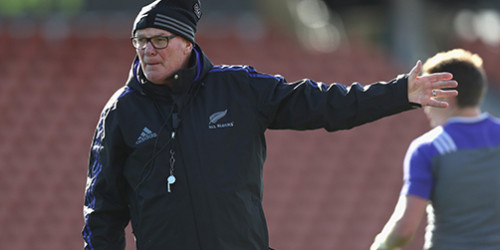 Known to all in rugby circles as "Crono", 64-year-old Cron has been involved with the All Blacks since 2004 and involved in multiple campaigns during that time, including the victorious back to back Rugby World Cups of 2011 and 2015 and successful Bledisloe Cup, Investec Rugby Championship and Grand Slam campaigns.
---
"I've been incredibly lucky and had a wonderful career coaching at international level and I'm really looking forward to this last year with the team," Cron said.

"It will be my fifth Rugby World Cup this year (four with the All Blacks and one with Wales) so is the right time to step down from the international game."

Cron said after coaching for 37 years, he wouldn't be quitting for good, but would now focus on mentoring younger coaches and up and coming players.

"That's my other passion. As well as coaching younger players and helping them hopefully reach their potential, I'm also keen to help out the young coaches of the future, so looking forward to doing that."

New Zealand Rugby CEO Steve Tew has led the tributes to Cron.

"Crono is a national treasure and thousands of players, from school, club, provincial, Super Rugby, the Black Ferns and of course the All Blacks, have been coached and mentored by one of the best rugby coaches in the world.
"He has a real desire to mentor young players and coaches and really cares about their development, so we're delighted he will continue to contribute to the future of the game in New Zealand."
?? Exactly 32 years ago today, the All Blacks lifted the inaugural @RugbyWorldCup title at Eden Park. Listen to victorious flanker Alan Whetton as he recalls the key moments of that magical day in 1987. ??????#BackBlack pic.twitter.com/o4vnI667Oq— All Blacks (@AllBlacks) June 19, 2019
All Blacks Head Coach Steve Hansen said: "Sometimes in life you're lucky to come across a real influencer in your career. For me, Mike Cron is one of those people.

"He's one of those guys I've leaned on from day one of my coaching career. Initially, that was around scrummaging, with Canterbury and the Crusaders, and then with Wales. Then I suggested to (former All Blacks Head Coach) Graham Henry that we bring him into the All Blacks.

"His ability to teach anyone - younger, older, male or female - is world renowned and the greatest gift that Crono has is his ability to always keep learning and to keep giving. I've seen him coach club, provincial, Super and international rugby, plus even a stint overseas, all in the one year.

"As 'Tewy' said, he is a national treasure. He and his family must be immensely proud of everything he has achieved throughout his career, not only with the All Blacks, but with all the teams and individuals he has coached. It's great that New Zealand Rugby hasn't lost him completely.

"On behalf of the All Blacks family, we'd like to thank him for his many years of service. I'd also like to congratulate him and April on making their decision and wish them all the very best for the future."

Mike Cron, All Blacks Assistant Coach - Forwards
Mike Cron first began working fulltime with the All Blacks in 2004 and after many years as the All Blacks Scrum Coach, moved into a wider role as the Forwards Coach in 2012. Mike has been coaching since 1982 and is recognised as one of the most innovative and respected coaches in the world. He has been a long-time New Zealand Rugby resource coach working with New Zealand's other national teams, Super Rugby sides, provincial and academy teams, and numerous amateur club and schoolboy teams. He has also coached all around the world and was scrum coach for Wales at the 2003 Rugby World Cup, working alongside Head Coach Steve Hansen. Earlier in his playing days, the former police officer represented Canterbury at prop and captained the New Zealand Colts and Combined Services teams before starting his coaching career with the St Andrews College First XV. He was made a member of the New Zealand Order of Merit (MNZM) in 2015.

?? Spine tingling...

Next time it will happen under the sun in September when the @AllBlacks face Tonga in Hamilton! Are you ready?

TICKETS ?? https://t.co/Ys4PmfRsdrpic.twitter.com/y7qP1EQujk— All Blacks (@AllBlacks) June 19, 2019