But on February 12, 2017, the young prop's rugby career was brought to a cruel halt after he broke his left tibia and fibula while playing for the Chiefs at the Brisbane Tens.
"It's a date I remember pretty clearly. There are some things that are a bit hazy because of the morphine and pain killers, but the day is fairly clear in the brain," said Graham.
Three a bit years later and four surgeries deep, Graham is still rehabbing.
"I'm still trying to get the leg right. It's getting better but still a long way to go before I'm fully recovered. I'm slowly getting there, but it's pretty frustrating."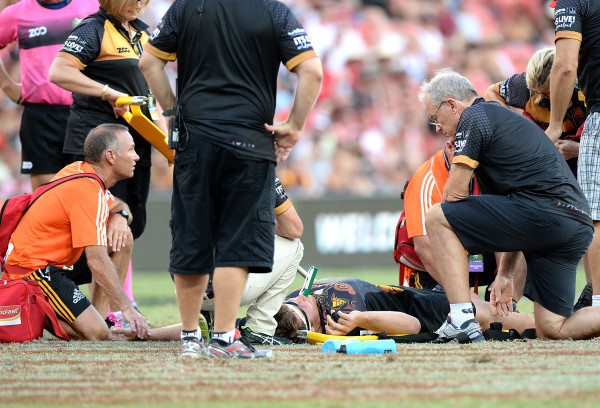 Having studied chemical engineering at Canterbury University, the 29 year-old was always encouraged by his family to think about life after rugby.
"They told me to have a plan B because rugby is a pretty short career in the whole scheme of things. When you're in it you don't feel like that, but you do have to know what you're going to do afterwards and I've had a fair bit of time rehabbing over the last three years to have a good think about it."
Whilst injured, Graham had his eyes out for business opportunities. A friend of his from overseas, who knew of his chemical background, approached him to see whether he would be interested in being the New Zealand distributor for a disinfectant tablet. That's how his business, Worchem, came about.
Worchem is New Zealand's first and only company dedicated to supplying safe, convenient and effective disinfectant tablets for clinical, agricultural and commercial use.
"I did four months of research on the product to see whether it was firstly worthwhile, and secondly a good product that I would be happy to stand behind. While rehabbing I decided to go for it. I made an order and started the process of making labels, branding, company registration and everything else that comes with starting up a business. It was a lot bigger project than you think, and a lot slower. But I got there, and I was on the market in November last year."
The Covid-19 crisis has seen a huge demand in Worchem products, with his tablets and hand sanitizer in-demand as the country responds to the pandemic. It's active ingredient has been recommended for the disinfection of Covid-19.
How it works, is you drop a tablet in water, and it dissolves to give you a spray and wipe solution, or a mopping solution, however you use your disinfectant. It's a hospital grade disinfectant and you don't have to worry about getting any chemicals on your hands. Graham is now working with a number of new clients.
"I've recently got multiple schools purchasing my products. Gyms are starting to pick it up and during Level 3 and 4, I had transport companies, cleaning companies and pharmacies using my products. One of my goals is to get Clinisan into hospitals throughout New Zealand. It is a really effective hard surface disinfectant."
Worchem also has an agricultural product, which is designed for farms, kennels, catteries and other animal sites. Graham said it's been very rewarding to help get people's businesses and lives back up and running during this tough time.
On the rugby front, Graham still loves the game, but it became hard to watch in the months after his injury.
"When you are missing out, it's like getting salt rubbed into the wound every day. I found it real tough there for a while, but I'm through the worst now."
The former Chiefs and Taranaki prop has started helping out around his rugby club, Ohaupo in the Waikato this year. He's currently helping to coach at the club and having a lot of fun.
"Playing again is always on the mind. But it's a tough one, after three and a bit years you get a bit over the rehab process and you've got to look at the bigger picture and work on getting the leg right. If it does come right it would make for a tough decision now given my business is starting to become more successful."
Check out Mitchell Graham's website for more information on Worchem, www.worchem.co.nz
Login • Instagram