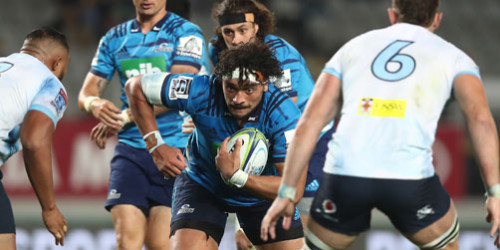 The Blues took a 32-29 win in their Investec Super Rugby game at Eden Park on Saturday to maintain a record of only ever losing once to the Waratahs in New Zealand since the onset of the competition in 1996.
---
---
The backbone had been demonstrated when they tried to wind down the clock with three or four minutes to go. That had been a gutsy decision, Gibson said, and it showed in their forwards through their willingness to compete at the ruck and there was starting to be a bit more steel in the side.
Gibson felt there had been a few decisions that might have gone their way in the final phases.
"We wanted to keep the Blues deep in their own territory and pin them deep. In the first 15 minutes we struggled to do that, we let them out with easy penalties but for the remainder of the game I thought we controlled territory well and gave ourselves a chance to score points," he said.

?? Should Ma'a Nonu be in the All Blacks frame? Is Ardie Savea in career-best form? @PiriWeepu makes his call and checks out all the action from another unpredictable round of #SuperRugby. pic.twitter.com/z0yU8M3Rfe— Super Rugby (@SuperRugbyNZ) April 8, 2019
Gibson said it was disappointing to be on the end of another close loss. There was still room for his side to grow and that was a positive.
"We're scrapping well, we're competing at the moment and that gives us a chance," he said.
Fullback Israel Folau's feat in becoming the leading tryscorer in Super Rugby history was a credit to him and he replaced some legendary try scorers, he said.
Folau scored his 60th try in the game to move past former Blues wing Doug Howlett's total.
"It'll be a wonderful library of tries if you go through it so it's real credit to him," he said.
A former midfielder himself, Gibson said it was a credit to Ma'a Nonu to be playing at his age and still competing and competing well.
That was something Blues centre TJ Faiane had been able to observe from close quarters while playing with the former All Black.
"I grew up watching him [Nonu] and I think he's the best 12 to ever wear that black jersey in my opinion and sometimes you have to pinch yourself to realise you are playing alongside your idol.
"For me it's been enjoyable playing with both Ma'a and Sonny [Bill Williams]. They both offer different things, they're both powerful men and for me I just have to pinch myself. But you have to put that aside as you've got to play as well. He's been easy to work with and it's been enjoyable," he said.
What had impressed him most was the way Nonu looked after his body.
"You talk about Sonny, but Ma'a is exactly the same. He just wants to get better. I think that's the main thing," he said.
Faiane may have to be putting his own desire to play at second five-eighths on hold while playing at centre, but he had no concerns, he was just happy to be playing, he said.
Faiane said the Blues were on a good roll and it was a case of attempting to keeping it going. He said a difference to the performances was they were getting their preparation right and the players were working well on their individual roles during the week.
"We practise different scenarios; if we're up or we're down and what to do, and we did it today," he said.
Check out the top 5? tries from round eight of #SuperRugby! Do you agree? Let us know your favourite try in the comments! ??#RaiseTheStakes pic.twitter.com/OeBJeps0eW— Super Rugby (@SuperRugbyNZ) April 8, 2019