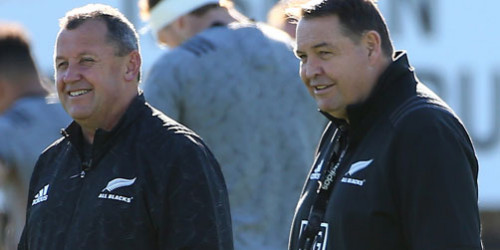 With prop Angus Ta'avao called into the side as a result of injury to Joe Moody, and the already chronicled rise of fellow Chiefs prop Karl Tu'inukuafe, Foster said there was a powerful message to be had.
He added to it by saying the All Blacks selectors were taking an active interest in the Mitre 10 Cup this year with several positions being closely watched with selections, possibly at the end of the year, in mind.
---
QUICK TAP: LIMITING PUMAS CHANCES VITAL IN NELSON
---
"If you keep trying and keep working at your game and get better and better at the things you need improving on, you never know when the door is going to open. We don't have to sell that message much now do we, there's proof with it, particularly in the tight forwards," he said.
Foster said he had plenty of messages from old teammates who were tight forwards because they got excited when older players got selected because they knew it took time for tight forwards to get things right particularly.
"There's some great messages but I think the powerful one is it's more about those players who, through some adversity have kept the dream alive and done really, really well," he said.
Foster offered sustenance to those dreams by saying the selectors were looking at the Mitre 10 Cup this year because there would be chances available and plenty of motivation for players to perform and especially with a five-game end of year tour to look forward to.
While the selectors couldn't see every Mitre 10 Cup game, especially while preparing for Test matches, they were in touch with events.
NEWS | The #AllBlacks are expecting a MASSIVE challenge in the forward pack from Argentina in Nelson this Saturday. What are your predictions?????? ????

R?EAD ?? https://t.co/qIcOA1NsUU pic.twitter.com/AJum0j3Ern— All Blacks (@AllBlacks) September 4, 2018
"As coaches we've got a few people that we're keeping an eye on and sometimes you may not see the whole game but you are able to go back and look at a player's game so between other people's views and Foxy [selector Grant Fox] looking at things we get by," he said.
But in the main business of the week, Foster said, Argentina's success against South Africa hadn't changed the All Blacks' strategy for the series which was about building depth and combinations and growing their game. But they had heightened the All Blacks' awareness that Argentina were a team that if they didn't play well against them they would struggle with.
"It just means the whole prep [preparation] probably goes up another couple of cogs which is great," he said.
"We've got a squad that's got a lot of energy about it at the moment. It's an exciting group, they all want to play and it's [selection] as challenging now as it ever has been for the last few years," he said.
The over-riding approach for the selectors was 'in the now', Foster said. They knew there was a plan for 12 months out but at the same time they didn't want to lose a Test match and they didn't want to play poorly in a Test match.
With the new combinations the selectors had put out over the last few weeks there had been a lot of energy generated among the players.
Foster said the surface at Trafalgar Park, where the side trained on Tuesday had been fantastic and with all the buzz that had been felt around Nelson it was going to be an incredible occasion.
"It's a great spot to be. Tasman's going really well so rugby is top of mind and it's great to be in that sort of environment," he said.
??? "The ojective of the week is to have a great performance on Saturday"

Check out what #AllBlacks Assistant Coach, Ian Foster has to say ahead of this weekends clash with Argentina. ????????#TeamAllBlacks #NZLvARG pic.twitter.com/d7daVoXiZZ— All Blacks (@AllBlacks) September 4, 2018