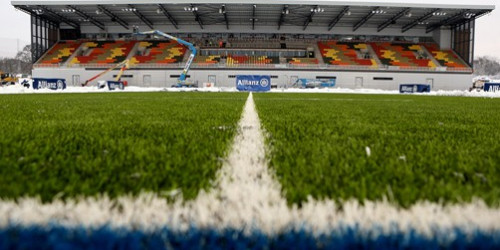 Some codes have been transformed by the new ground, with Hockey in particular now using the surfaces as first class standard for international tournaments.
Allianz Park, Saracens' new stadium in north London, has had the state-of-the-art turf installed, which should effectively be immune to all elements.
Sarries will play Cardiff Blues in a LV Cup match, before the grand opening of the ground on February 16, where the 10,000 plus seat stadium is expected to be sold out for the Aviva Premiership match against the Exeter Chiefs.
Already there are plans to potentially expand the stadium for money spinning final's and Heineken Cup matches later this year.
Effectively the new turf will be closely monitored for it prevents what some argue is a muddy stain on our sport – mud in rainy conditions!
Already the pitch has gathered plenty of media attention, as on Monday Sarries opened up the new ground to the media and representatives of other clubs, and despite snow on the ground, a plough made quick work of Jack Frost's handiwork, showing the qualities that could eventually see an artificial turf become standard.
It is believed that potentially artificial turf could be on feature during the 2015 Rugby World Cup if the new surface catches on and the International Rugby Board says it is acceptable for international fixtures.
Japan has also expressed an interest as they plan their new super stadium which will be the jewel in the crown for their hosting of the 2019 tournament.
The only concern at this stage will be any potential injury pitfalls that could occur on the surface, with artificial turf not normally exposed to the unique rigours of rugby union, such as 1.6 tonnes of force hitting at the scrum, or 16 men shuffling up and down before jumping metres in the air to collect a lineout.
There is cushioning underneath the turf, effectively rolls of carpet that act as a shock absorber, an aspect that has been strictly tested, but there were considerable teething problems in this regard when the NFL in America introduced the new ground as an acceptable standard – and now half of the cashed up American Football clubs have adopted the new ground to allow for theoretical 24 hour / 4 season usage.