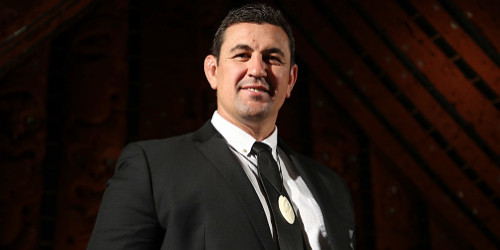 After the November 3 tripleheader Chicago international against the USA Eagles, ranked No 15 in the world, the Maori will travel to South America for games against Brazil (ranked 26) and Chile (30).

---
QUICK TAP: MAORI ALL BLACKS SQUAD NAMED
---
"You always prepare expecting them to be at their best, because they are playing the Maori All Blacks. There is a bit of anxiety about not knowing too much about them," says McMillan.
"I'm not one to count my chickens before they hatch, so all I'll say is that it's great to be able to go to those parts of the world to help grow their rugby, and the best way we can do that is to put on a performance we can be proud of, first and foremost."
Brazil won its first South American Championship in 2018, and placed fifth, beating Chile, in the Americas Rugby Championship.
"It's great that we can take the Maori All Blacks to new territories. On the back of a long Super Rugby and Mitre 10 Cup seasons, I'm sure the players are looking forward to exploring new territory," adds McMillan.
The hard part for the Maori All Blacks coaching staff, which includes Roger Randle and Joe Maddock, is always selection, working out who is available and who is being released from the All Blacks.

?? Following his selection in the #AllBlacks Vista 2018 Northern Tour squad, check out the thoughts of the new man on the block, Dalton Papali'i.

FULL ALL BLACKS SQUAD ? https://t.co/WwVZCKV1RU pic.twitter.com/xAKMAiSoZg— All Blacks (@AllBlacks) October 15, 2018
A total of 28 players will travel to Chicago on October 28, with the bulk of the squad assembling in Bay of Plenty next week as they are released from their provincial Mitre 10 Cup duties. Thus far only nine players are fully free of playing commitments as semifinals weekend looms. Canterbury wing Caleb Makene will travel to Chicago as outside back cover before returning home after that match.
Potentially five named in the All Blacks for the November 3 Test match against Japan will join the squad in South America. They are halfback Bryn Hall, centre Matt Proctor, outside back Nehe Milner-Skudder, lock Jackson Hemopo and prop Tyrel Lomax.
Brad Weber and Akira Ioane are others to have worn the All Blacks jersey.
"We didn't anticipate Akira being with us, but he will be a significant boost for our team. We're well aware of his strengths and will welcome him with open arms," says McMillan.
Despite losing a clutch of players to the All Blacks, the Maori All Blacks have depth, talent and Mitre 10 form. There are potentially nine debutants in Auckland hooker Robbie Abel, Tasman lock Pari Pari Parkinson, Wellington lock Isaia Walker-Leawere, Canterbury flanker Billy Harmon, and Bay of Plenty loosies Mitch Karpik and Hoani Matenga, Otago No 10 Josh Ioane, Waikato utility back Matty Lansdown and Hawke's Bay wing Jonah Lowe.

ICYMI | The #MaoriAllBlacks squad for the November tour to Chicago and South America has been named. How strong is this squad looking ???

FULL STORY ?? https://t.co/Ke6jOmVuJ6 pic.twitter.com/RPcaEzyh2s— All Blacks (@AllBlacks) October 16, 2018