Vastly experienced senior executive Jennifer Kerr and Left Field Live sports agency Chief Executive Bart Campbell were confirmed and Pango Productions founder Bailey Mackey elected to the Board, while former All Blacks captain Ian Kirkpatrick was also elected as Patron during the first NZR AGM to be conducted online.
NZR Chair Brent Impey said the new Board were guiding NZR into uncharted waters in the wake of the COVID-19 pandemic but stressed there was also a rare opportunity to rebuild and reshape rugby.
"We face significant challenges, but many are not new with continued demand for our players overseas, the need to stay relevant to young people and adapt to fast moving technologies.
"We now have an opportunity to take stock and I am confident that if the dedicated and passionate people involved in rugby commit to working together in 2020 and beyond, we have the ability to ensure our sport thrives into the future."
NZR Chief Executive Mark Robinson said it was important to pause and celebrate the successes of 2019, while also making tough decisions.
"Many of our achievements in 2019 highlight the best of rugby and we should not forget the part we play in New Zealand society. Now is the time to focus firmly on rugby's core business, so that rugby can continue to inspire and unify future generations of New Zealanders."
Stakeholders around the country came together via Zoom video conference as Ngati Porou East Coast President Mackey, the 2017 Māori Entrepreneur of the Year, headed off Auckland Rugby Union Director Kate Daly, for the contestable position.
Kerr becomes the second woman to be appointed to the NZR Board, joining Dr Farah Palmer at the top table and her presence on the Board moves rugby closer to the Government target of having a minimum of 40 percent of each gender on National Sports Organisation boards.
Kerr, who is a current Board member of New Zealand Trade and Enterprise and the Counties Manukau Rugby Union, was appointed to the position vacated by Robinson when he became NZR Chief Executive Officer in January.


Campbell has also taken up an appointed position.
Impey said the quality and diversity of the nominations were testament to the commitment of stakeholders to take the game forward.
"It's pleasing to see our Provincial Unions respond to the call and put forward the people they did and to inject a diverse range of backgrounds and ideas into the game.
"At NZR we view diversity in a wider sense than just gender, but we are also committed to creating opportunities for women at all levels of our game including governance."
NZR has also appointed Nicola O'Rourke, Chair of the New Zealand Food Basket coalition, as an Aspiring Director.
Impey thanked outgoing Board members Peter Kean and Andrew Golightly for their service, passion, and "valuable contributions" to NZR. Both had been NZR Directors since 2014.
The new Board will also have a new patron with Kirkpatrick taking up the post following the passing of Sir Brian Lochore in August last year.
Kirkpatrick was a revered loose forward who represented Poverty Bay and Canterbury and played 39 Tests for the All Blacks from 1967-1977. He was made a Member of the Order of the British Empire in 1980 and inducted into the World Rugby Hall of Fame in 2003.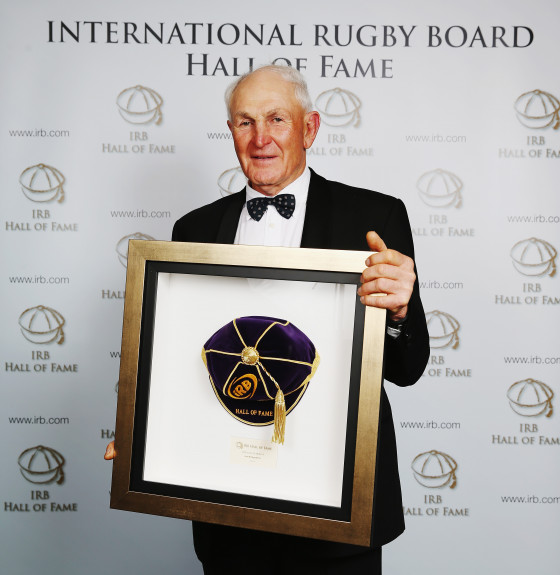 Former NZR Chair Mike Eagle was elected as a Life Member. Eagle served on the NZR Board for 12 years through until 2014.
2019 Financial Results
Strong cash reserves, a record investment in rugby and ongoing commercial success saw NZR close out 2019 with a robust balance sheet, but uncertain times and tough decisions lie ahead.
The headline result for the 2019 financial year was a $7.4 million loss, 37 percent ahead of the budgeted loss of $11.8 million, while the bottom line was sustained by healthy cash reserves which were boosted by the DHL New Zealand Lions Series in 2017.
The current economic disruption was difficult to put 2019 into perspective, but NZR Chief Financial Officer Nicki Nicol said there had been some positives including a $195 million investment into rugby in New Zealand.
Revenue of $187 million was down just one percent from 2018 but represented a 40 percent increase when compared to the last Rugby World Cup year in 2015.
"When you consider the significant impact on broadcasting and match day revenue in a Rugby World Cup year due to a condensed international programme, the commercial income from sponsorship and licensing has been a real success story," Nicol said.
The continued support of key partners adidas and AIG was invaluable, while NZR's relationship with broadcast partner Sky Television was further strengthened with the re-negotiation of a broadcasting rights deal.
NZR also renewed or signed new partnerships with Mitsubishi Motors, Replay, Jockey, EY, Downer, SAS and Tourism New Zealand in 2019, reflecting the sustained success of the All Blacks and the rising profile of the All Blacks and Black Ferns Sevens teams, the Black Ferns and the Māori All Blacks.
With this context Nicol said the cash reserves of $93 million had provided a vital buffer against the initial economic impact of the COVID-19 pandemic.
"This has been beneficial in a year when there has been a massive shock to our revenue and we have had to respond by quickly reducing costs across all of rugby. Everyone is playing their part.
"We must now consider a total reset as we look to rebuild the sport in a financially sustainable way."
*The 2019 Annual Report is available here
Participation and Development


NZR teams and referees achieved some fantastic results on the world stage in 2019:
- The Black Ferns are ranked No 1 women's side in the world

- The Black Ferns won the Women's Rugby Super Series and O'Reilly Cup

- The All Blacks secured the Bledisloe Cup for the 17th straight year

- The All Blacks Sevens and Black Ferns Sevens qualified for the Tokyo Olympics
- The Black Ferns Sevens won fifth World Sevens Series title

- The Crusaders won a third-straight Investec Super Rugby title

- A total of 159,773 people played rugby in 2019, an increase of 2,492, while there were 31,035 female players, a rise of 11 percent from 2018.
Encouragingly there was small increase in the total number of teenagers, flattening a trend of declines in recent years.
Robinson said the community game remained at the heart of rugby.
"Without community rugby we wouldn't have All Blacks, Black Ferns or Māori All Blacks. However, more than that, we believe rugby strengthens and connects our communities through communication, teamwork, and enjoyment; as well as helping to keep people fit and healthy."
As well as growing playing numbers, NZR also grew its fan base. The All Blacks attracted an average of 1.3 million views across three domestic Test matches as the team prepared for Rugby World Cup 2019.
"We know that while television still plays a huge role in rugby consumption, online platforms for highlights reels, interviews and behind the scenes access is constantly growing," Robinson said.
The Rugby World Cup 2021 in New Zealand provided an opportunity to further grow rugby's fan base and 2019 saw NZR completed the Governance Framework, Tournament Delivery Structure and Project Plan for the tournament.
Robinson said he was proud to be leading an organisation that had made giant steps in creating a more respectful and inclusive culture.
Milestones included hosting the first parallel conference for Rugby Chairs and Women in Governance, a culture change programme for Provincial Unions, and a new Harm Prevention Framework.