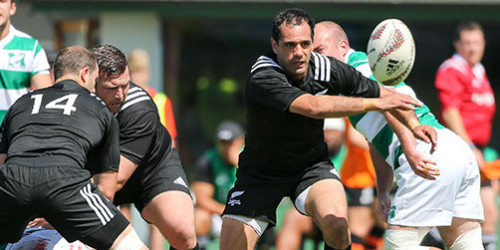 The New Zealand Heartland XV is;
Alex Bradley Thames Valley
Scott Cameron Horowhenua Kapiti
Carl Carmichael King Country
Dean Church King Country
Craig Clare Wanganui
Cam Crowley Wanganui
Ralph Darling North Otago
James Goodger Wairarapa Bush
Campbell Hart Wanganui
Shaun Hill Thames Valley
Sione Holani West Coast
Meli Kolinisau North Otago
Seta Koroitamana Mid Canterbury
Aaron Lahmert Horowhenua Kapiti
James Lash Buller
Simon Lilicama North Otago
Glen McIntyre Thames Valley
Peni Nabainivalu Wanganui
Veikoso Poloniati South Canterbury
Brett Ranga Thames Valley
Andrew Stephens Buller
Nick Strachan South Canterbury
Troy Tauwhare West Coast
Alex Thrupp King Country
William Wright South Canterbury
The team features 10 players that will be taking the field in Mitre 10 Heartland Championship Finals this weekend.
Craig Scanlon steps up into the Head Coaching role after acting as Assistant Coach in 2017 and said it has been an extensive process in selecting the squad.
"We have people right across the country watching matches and players to get to this point and its exciting to see the group of players we have been able to select.
The squad is a balance of 16 new faces along with nine who played in the Heartland jersey in 2017.
"Heartland teams can vary in strength from year to year and it is great to see new players rewarded for strong seasons in their provincial colours."
The Heartland XV will play two matches early next month against Vanua XV from Fiji and the New Zealand Marist team.
Scanlon said the key will be balancing the workload in a short build up.
"We have the best players from across the Heartland Unions coming together so we know they have a high skillset and are talented players. We need to have the right balance of getting players to understand how we want to play but not over-training them on the field.
Being involved in a come from behind victory in 2017 against New Zealand Marist XV provided Scanlon with learnings to take into this year's campaign.
"The match we had last year was incredibly fast and physical and a significant step up from what we see week to week in the Heartland Competition so we need to make sure our players are ready for that this year."
Match Schedule
New Zealand Heartland XV v Vanua XV
Thursday 1 November, kick off 5pm
Owen Delany Park, Taupo
New Zealand Heartland XV v NZ Marist XV
Sunday 4 November, kick off 2.30pm
Owen Delany Park, Taupo
Who will lift the silverware this weekend? #Mitre10Cup pic.twitter.com/oJp9BItmhl— Mitre 10 Cup (@Mitre10Cup) October 23, 2018