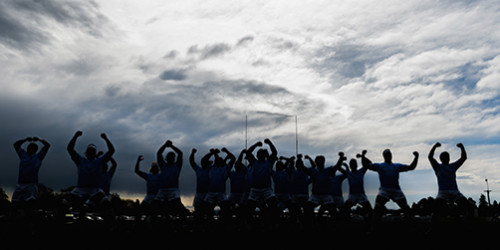 It is the first time a Maori Under 20 team has been selected and is a development of the New Zealand Maori Under 18 programme that has been running since 2016.
---
The team features players from 10 provincial unions and is a mixture of academy, Mitre 10 Cup and Super Rugby age-group representatives.
Head Coach Rua Wanoa, who has previously led the Under 18 programme, said it was a special opportunity to assemble a group of players for this one-off match against Fiji.

"There are a number of players here with us this week that were involved in our first programme in 2016, it is great to show the pathway that is available for Maori players, especially alongside the Maori All Blacks."

Wanoa said many of the players have come up against Fiji at Under 18 level and know to expect an exciting, dynamic style of play.

"A lot of coaching is often about looking at the picture that is in front of you, Fiji are so dynamic and passionate in how they play that the way we look at the game is a bit different, it's very exciting.

"Our game plan is very player driven, we have laid the foundations and want the players to take it from there, our team ethos is about developing leaders on and off the field."

The Fiji Under 20 team finished 11th at this year's World Rugby U20 Championship in Argentina.
1. Kershawl Sykes Martin (Tasman) - Ngati Porou)
2. Te Ariki Te Puni(co-captain) (Auckland) - Ngati Raukawa, Ngati Porou, Rangitane o Manawatu, Ngai Te Rangi
3. Jonas Pomare (Bay of Plenty) - Ngapuhi
4. Josh Hill (Otago) - Ngai Tahu
5. Keelan Whitman (Wellington) - Ngati Rangiwewehi
6. Kaipo Brown (Bay of Plenty) - Te Aupouri, Te Arawa, Tainui, Ngai Te Rangi, Te Ati Awa
7. Tamarau McGahan (North Harbour) - Ngai Tuhoe, Ngati Raukawa
8. Shamus Hurley Langton (Wellington) - Te Ati Awa, Taranaki
9. Cortez-Lee Ratima (Waikato) - Ngati Maniapoto, Ngati Tama
10. Zarn Sullivan(co-Captain) (Auckland) - Ngati Kahungunu
11. Coel Kerr (Canterbury) - Ngati Ranginui
12. Leo Thompson (Wellington) - Ngai Ta Manuhiri, Ngati/Rangiwewehi
13. Tahu Kaa (Canterbury) - Ngati Porou, Ngai Tahu
14. Dennon Robinson Bartlett (Bay of Plenty) - Ngati Kahungunu
15. Bailey Gordon (Bay of Plenty) - Te Arawa)

16. Tyrone Thompson (Wellington) - Ngai Ta Manuhiri, Ngati, Rangiwewehi
17. Benet Kumeroa (Bay of Plenty) - Te Atihaunui-a-Paparangi
18. Tanara Haenga (Wellington) - Ngati Porou
19. Sam Smith (Wellington/Ngati Raukawa, Ngati Kahungunu)
20. Isaac Bracewell (Wellington) - Ngati Maniapoto
21. Tobias Manuel Wickham (Manawatu) - Ngati Porou, Ngati Tuwharetoa
22. Callum Bean (Auckland) - Ngai Tahu, Nga Puhi
23. Leo Ngatai Tafau (Counties Manukau) - Ngati Porou, Tainui

?? Big turnout for the #MaoriAllBlacks at the Rotorua Night Markets! Can't wait to see you all on Saturday night when we take on @fijirugby.

??? Tickets start at just $10 for kids. BOOK HERE ?? https://t.co/fYiaWgLrsC pic.twitter.com/sUrR5duOQi— All Blacks (@AllBlacks) July 18, 2019