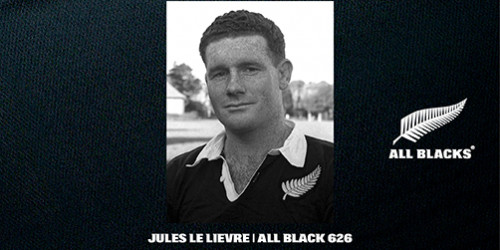 Jules Mathew Le Lievre was born on 17 August 1933 in Akaroa on Banks Peninsula. After a lengthy Canterbury career, he made his All Blacks debut in 1962 and went on to play 25 matches, including one Test.
"It is with sadness that we mark the passing of Jules Le Lievre," said New Zealand Rugby Chairman Brent Impey.
"We are certain that Jules will be fondly remembered around New Zealand this week and for some time, in particular by the Canterbury rugby communities of which he was part. He made an important contribution to rugby as a player who served his country with pride, and later a coach and administrator. Our thoughts are with his family and friends at this sad time."
He started his playing career as a loose forward, later moving into the front row where he appeared on either side of the scrum. The late 1950s and 1960s were a time at which Canterbury and the All Blacks were blessed with considerable depth at prop, with Le Lievre competing at national level for an All Blacks spot against Wilson Whineray, Ian Clarke and Ken Gray amongst others. It is testament to his ability and consistency that he made 25 appearances, including 18 on the lengthy 1964-64 tour that took in the United Kingdom, Ireland, France and Canada.
Le Livere's sole Test appearance in Dunedin was also his only appearance in the black jersey in New Zealand, although he played for the South Island from 1960-65 and featured in All Blacks trials from 1959-63 and again in 1965. As an All Black he scored two tries and also kicked a conversion in the All Blacks 103-0 win over Northern New South Wales.
Le Lievre ended his playing career as a centurion for Canterbury with 107 appearances for the red and blacks, first from the Marist club and later from Culverden. While playing he had started coaching for the Culverden club (1961-65) and on hanging up his boots, coached first the Hurunui sub-union side (1966-68) and the Canterbury Sub-Unions team (1969-74).
Le Lievre received his All Blacks cap in Christchurch in 2009, when New Zealand Rugby retrospectively presented caps to All Blacks who had made their Test debuts between 1946 and 1996.
For more information, view Jules Le Lievre's profile on allblacks.com