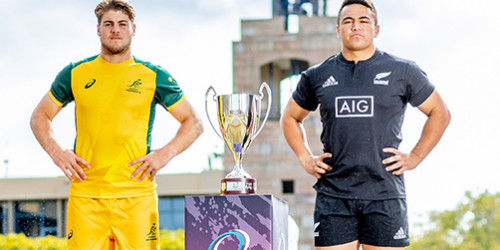 Coach Craig Philpott has named a strong team for their final match of the series.
---

The team is;
1. Ollie Norris (Waikato)
2. Kianu Kereru Symes – captain (Hawke's Bay)
3. Tamaiti Williams (Canterbury)
4. Cullen Grace (Canterbury)
5. Tupou Vaa'i (Taranaki)
6. Samipeni Finau (Waikato)
7. Kohan Herbert (Bay of Plenty)
8. Kaylum Boshier (Taranaki)
9. Leroy Carter (Bay of Plenty)
10. Fergus Burke (Canterbury)
11. Scott Gregory (Northland)
12. Dallas McLeod (Canterbury)
13. Quinn Tupaea (Waikato)
14. Lalomilo Lalomilo (Bay of Plenty)
15. Cole Forbes (Bay of Plenty)

16. Shilo Klein (Canterbury)
17. George Dyer (Waikato)
18. Kaliopasi Uluilakepa (Wellington)
19. Fletcher Newell (Canterbury)
20. Taine Plumtree (Wellington)
21. James Thompson (Waikato)
22. Jeriah Mua (Bay of Plenty)
23. Simon Parker (Waikato)
24. Taufa Funaki (Auckland)
25. Rivez Reihana (Waikato)
26. Danny Toala (Hawke's Bay)
27. Chay Fihaki (Canterbury)
28. Sam Gilbert (Canterbury)

"We've been together for two weeks now and I think that is starting to show in our performances. Against Fiji we were still finding our feet a bit, but that second half against Japan was particularly good, it was an indication that the team are enjoying themselves and our structures on attack and defence are working."

Kianu Kereru Symes will lead the team after starting off the bench against Japan, Kaylum Boshier and Dallas McLeod are named as vice captains. McLeod and Lalomilo Lalomilo retain their starting spots, the only players to start all three matches.

Philpott said a range of factors were taken into consideration when selecting this team.

"Some players have been selected on form but in some cases we are looking at developing combinations and ensuring players get solid game time."

The World Rugby trial to have an extended bench, with 14 players, eight of which are allowed to join the game, has added a different element to the series.

"As coaches it means we have to be a bit more agile in our thinking. When you only have eight players on the bench you tend to pre plan a bit but here we have to think on our feet to get that maximum impact."

Philpott said the team is focussed on getting the win tomorrow night.

"Its about continual improvement, we probably left some tries out there on the park on Tuesday with some poor skill execution so there are a few things to tidy to get a good performance."

Schedule for Oceania Under 20 Championship:

Friday 26 April
New Zealand 53(Quinn Tupaea 2, Tupou Vaa'i 2, Sam Gilbert, Leroy Carter, Lalomilo Lalomilo, Shilo Klein tries, Fergus Burke 2 con, Rivez Reihana 3 con)
Fiji 7

Tuesday 30 April
New Zealand 87 (Kohan Herbert 3, Lalomilo Lalomilo 2, Kaylum Boshier, Taufa Funaki, Scott Gregory, Dallas McLeod, Chay Fihaki, Cole Forbes, Rivez Reihana, Tamaiti Williams tries; Rivez Reihana 11 con) Japan 12
Saturday 4 May v Australia, 9.00pm NZT

Watch the Oceania Under 20 Championship