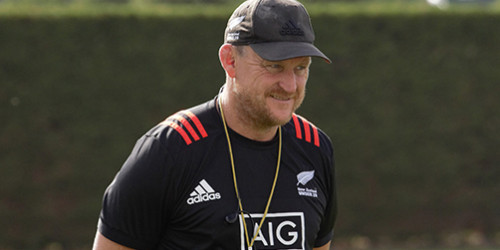 Just how narrow was made clear when Australia recorded a 24-0 win over New Zealand in the Oceania Tournament final earlier this month.
---
QUICK TAP: NZ UNDER 20 SIDE NAMED FOR WORLD CHAMPIONSHIPS
---
New Zealand are drawn with Georgia (June 5), Scotland (June 9) and South Africa (June 13) in their tournament pool. France won the tournament last year.
Coach Craig Philpott said one of the key requirements heading into a tournament was getting the players connected and a big part of that had been achieved on the Gold Coast last month at the Oceania tournament.
"We're a little bit underdone compared to other teams who go to the World Cup in terms of tough games which is one of the reasons we wanted to play Bay of Plenty this week, to play a Mitre 10 Cup squad and play guys that are adults and who've been playing the game for a while and are going to test us.
"It was good to be able to get that hit-out under our belt compared to other teams that have had seven or eight Test matches building up to this World Cup," he said.
Suffering a rare loss to Australia in the final had made the tournament of massive value to the side, he said.
"For us to just have that one hit out against Australia stood us in good stead," he said.
Philpott said the side's skill set had let them down when their attention to detail in that area lapsed when put under pressure.
They had taken some good lessons out of the loss and had tried to show that in their game with Bay of Plenty during their Mount Maunganui camp, ahead of their first tournament game against Georgia.
"We handled that a lot better in our game against Bay of Plenty," he said.

?? How is Damian McKenzie's recovery from injury progressing? @SKYSportNZ Breakdown reporter James Somerset ventures to Hamilton for the lowdown.

FULL VIDEO ???? https://t.co/J6ODBN8T7J pic.twitter.com/wlD5i3LBaP— All Blacks (@AllBlacks) May 27, 2019
After a short break at home they reassembled at their training base in Mount Maunganui where the emphasis was on reconnecting and also preparing with a game against the Bay of Plenty Mitre 10 Cup squad.
"The nice thing about this team is they are really good quality characters and they've got a real desire to continue that legacy of the black jersey. They've got a really good understanding of what that means and that's quite exciting," he said.
Having to cope with a new environment, such as the players would find at the main tournament base in Rosario and Sante Fe, Philpott said there was no danger of cabin fever occurring.
"Every experience is different; different people, different languages. A number of our games are on turf as opposed to grass so that will be a new experience and will quicken the game up. So everything is pretty fresh and you need that because you're living together and in each other's pockets for the best part of four weeks.
"There're a lot of upsides to going to a place like that. A couple of years ago we did that in Georgia, a very different place. It really helps galvanize the team," he said.
Playing on turf, as New Zealand's Black Ferns Sevens experienced a few weeks ago, exposed the skin to turf burns and involved a lot of tape being applied to grazes.
Philpott said the important thing in that regard was to look after any scrapes or grazes and to be professional in the rehabilitation from those sorts of things.
The nature of the tournament had changed in more recent years. New Zealand teams dominated the event in its inaugural years because Philpott New Zealand had a better understanding of the value of such a tournament for their national side.

?? Watch as @ChiefsRugby and @allblacks centre Anton Lienert-Brown takes a trip down memory lane with former All Black Mils Muliaina. pic.twitter.com/wopXZbzO1e— Super Rugby (@SuperRugbyNZ) May 26, 2019
"Teams have started to realise this is a really good launching pad for young men to play at a pretty high level then go back [home] and within a year or two they're in their national team.
"So they've started to resource their teams really well and that's seen by the amount of money they're putting into their build-up to the tournament, their travelling overseas to play warm-up tournaments, that kind of thing.
"What you're also seeing in the teams that are fully professional, in countries like England where all the players are in professional environments, you're starting to see those players be released a bit earlier so they can prepare with their teams and really go and have a good crack at this tournament," he said.
As a result in the last six or seven years the quality of the opposition had advanced while the amount of preparation they did was complemented by the importance they put on winning the title.
Like those overseas sides, New Zealand would be fielding players who have already appeared at higher levels in Investec Super Rugby or on the Mitre 10 Cup stage, but Philpott said those numbers were not as high as in recent years, although he didn't doubt more would be involved in the Mitre 10 Cup later in the year.
Captain Kianu Kereru Symes, Philpott said, was an adaptable young man who had only been hooking for about 18 months, originally being a loosehead prop. He captained his Hastings Boys' High School team to the national schools championship while in his first year out of school he was in the Hawke's Bay Mitre 10 Cup playing more games than expected as a result of injury to Ash Dixon.
He had grown up quickly in environment and he had taken advantage of opportunities and that would be needed in the World Cup campaign.
Prior experience has shown how quickly rugby careers can change on the back of exposure at the Under-20s tournament.
From the last New Zealand team to win the event, the Georgia tournament in 2017, hooker Asafo Aumua was included in the All Blacks in the same season, Dalton Papalii had come through last year and 22 of the 28 had played Super Rugby subsequently.
"What it does is send a message to this current group that 'you're very close, you're not faraway and it will happen very quickly if you get things right'," he said.
?? SELLING FAST – Get in quick to see the All Blacks before they head to Japan. With only three matches on home soil this year tickets are selling fast!

TICKETS ?? https://t.co/FRWgOHHoGB pic.twitter.com/pG5TlEw0c9— All Blacks (@AllBlacks) May 24, 2019