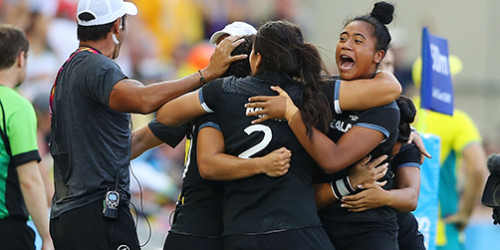 The victory over Australia completed a flawless three days at the Gold Coast Commonwealth Games for the Alan Bunting-coached side. New Zealand cruised through pool play with comfortable wins over Kenya, South Africa and Canada before edging England in a tough semifinal to set up the gold medal showdown with old rivals Australia.
---
QUICK TAP: NZ MEN'S SEVENS STUN FIJI IN GAMES FINAL
---
In front of a sold-out crowd of over 27,000 at Robina Stadium, both teams started in nervous fashion with an unforced error each before Portia Woodman scorched her way to the line for the first points of the final.
Getting the ball deep in her own half, Woodman showed why she is regarded as the most dangerous player in the world game by beating three defenders with her fend, step and blistering pace to put New Zealand ahead 5-0.
Australia struggled to get their hands on the ball in the first half, and when Niall Williams turned the ball over on one of the rare occasions they did have possession, it proved deadly as Michaela Blyde went over from a Gayle Broughton assist.
Coming out in the second half at 12-0 down, Australia needed to score first and it looked like they were in when speedster Emma Tonegato charged towards the line. A hallmark of New Zealand's campaign has been their determination and it was in full effect when Michaela Blyde came from behind to pull Tonegato down a metre before the line and cause the turnover.

GOLD!! The New Zealand women's sevens team won GOLD at the @GC2018 Commonwealth Games after defeating Australia 17 - 12 in extra time!#GC2018 #EarnTheFern pic.twitter.com/70SJHM6s1a— Black Ferns (@BlackFerns) April 15, 2018
Australia's opening try came all too easy from the resulting lineout. New Zealand overthrew the lineout and Emilee Cherry scooped the loose ball to run all the way to the line.
With the momentum and the crowd behind them, Australia scored again from a New Zealand error to make it 12-12 and set up a golden point finish in extra time.
Neither team was willing to yield in a tense extra time period. As the game tightened up, the physicality increased in the tight passages and a number of errors were conceded by either team as the tension remained high.
With five minutes of extra time almost up, and New Zealand pinned deep in their half, Kelly Brazier pulled off a piece of magic to secure the gold medal in the 30 degree Gold Coast heat.
Receiving the ball flat-footed, Brazier fended away the first defender before stepping her way through a tight gap and running 80 metres to the line with three defenders on her back.
It was a try that will surely be etched into New Zealand's sporting folklore and helps to erase the pain of the 2016 Olympics final loss to Australia.
SCORERS:
New Zealand 17 (Kelly Brazier, Portia Woodman, Michaela Blyde tries, Tenika Willison con) Australia 12 (Emilee Cherry, Ellia Green tries, Emma Sykes con)
SNAP ?? @kellybrazier14 runs 60 metres to score the winning try and secure the first ever Commonwealth Games gold medal for women's sevens.#GC2018 #EarnTheFern pic.twitter.com/oY8STLyekF— Black Ferns (@BlackFerns) April 15, 2018