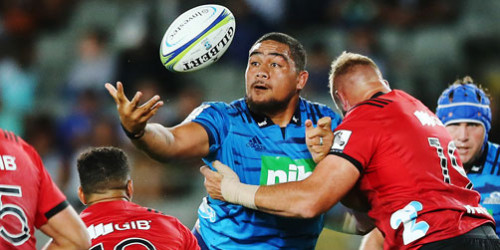 Coach Leon MacDonald said they were expecting a typically tough battle up front from a Chiefs team now playing with confidence.
MacDonald said the decision to start with All Blacks props Ofa Tuungafasi and Karl Tu'inukuafe, instead of bringing them off the bench as had been the case recently, was because they felt the opposition was right to employ that choice.
"Both sets [of props], if you want to call them that, are delivering and I've mentioned before whatever way we cut that up will depend on what we are wanting from our team in that game," he said.
MacDonald was in no doubt of the threat the Chiefs represent. That was clear from watching the footage.
"They've had two impressive wins and they could easily have beaten the Hurricanes so they're playing good rugby, they're quite confident again, their key players are standing up and playing good rugby. Damian McKenzie and Co. are playing with a lot of freedom and obviously we're travelling away to the Waikato so it is going to be a massive game for us," he said.
"They're definitely a dangerous side, you only have to ask the Bulls who got 40 points put on them about how dangerous they can be and that was over in South Africa. Their results on the road were really impressive against tough opposition and a hectic travel schedule so there's no doubt about the quality of this team," he said.
While the Blues have had issues against New Zealand sides in the derbies in recent years, MacDonald said they wanted to be able to compete well with the other sides and to be able to do that on the road would be massive for them.
"There's not a lot between the New Zealand teams and we just have to be ruthless in all areas and be prepared to defend against some brilliant attack at times," he said.
Flanker Blake Gibson, who left the field with a lacerated knee last week, had a lot of stitches in the wound and he would be given a chance for that to recover properly to prevent infection occurring and he was hopeful he would return in a couple of weeks.
Matt Duffie was named on the bench for the side and set for his first appearance for the season. He had sustained a very bad injury when tearing the hamstring off the bone and team management were determined that he take the full amount of time in recovery. He had done that and was now rearing to go and was at full fitness.
He added to the experience in the side and was able to cover fullback as well while his strength in the air and in broken play was world-class, MacDonald said.
The Chiefs' changed defensive system had settled in and they appeared to be holding onto the ball longer and scoring more tries as a result.
"They just look like they've got a spring in their step and the confidence and physicality is there," he said.