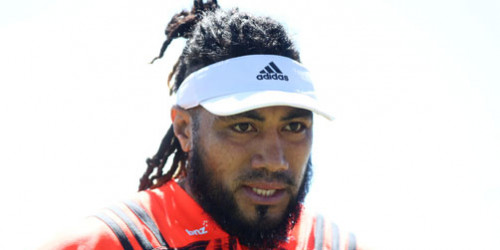 Hooker James Parsons said the side may have looked too deeply at the Sharks last week and had suffered accordingly.
---
OPINION: THE GAP BETWEEN AUSTRALIA AND NZ IS CLOSING
---
"It's on us to be confident in sticking to our plan and our game," he said.
They had done that in pushing a really good Crusaders side to the end in their first game but had probably over-thought things with the Sharks.
The biggest thing for the leadership group had been impressing on the others that they needed to focus on themselves and by doing that they would give themselves the best opportunity to succeed.
The job was ahead of the forwards to regain the touches they showed against the Crusaders where they had stood up well in scrums and lineouts, while the lineout had been below par against the Sharks.
"We need to chip away at them up front and go through them because some times holes and space out wide can be a little bit of fool's gold so making sure we beat them up front and go through them and then we can play on top of them and get in behind their d-lines [defence] had been the biggest focus for us up front," Parsons said.

Skills & Backs Coach, Dan Halangahu, gives insight from the coaches box into team selection ahead of our clash with The @JaguaresARG in Buenos Aires.

Watch the full video here: https://t.co/fJu0f7pNq7#JAGvBLU #RiseUp #BluesAllDay pic.twitter.com/8Of6g8TBaQ— The Blues (@BluesRugbyTeam) February 28, 2019
Changes have been made to the side with Ma'a Nonu returning to second five-eighths at the expense of Sonny Bill Williams and Augustine Pulu starting at halfback ahead of Jonathan Ruru. Alex Hodgman was starting at loosehead ahead of Karl Tu'inukuafe.
Assistant coach Tana Umaga said the selection was a reflection of keeping freshness in the side and managing minutes while also giving opportunities to players.
The selection of Nonu ahead of Williams was a case of managing the two players. Williams had suffered some knocks early in last week's game and the two of them would be swapping in and out throughout the season.
It was the same at halfback where Augustine Pulu will start ahead of Jonathan Ruru and that was also reflective of the competition for places in the side and it was important that everyone in the squad was getting opportunities they deserved with time on the pitch.
Tanielu Tele'a has been given another start and Umaga said he had been impressive both on and off the field in terms of his energy on the field and his thirst to learn off it.

FLASHBACK ?? The last time @JaguaresARG played @BluesRugbyTeam, the visitors picked up a historic win - but who are YOU picking to win this weekend?

?? Jaguares
?? Blues #JAGvBLU #RaiseTheStakes pic.twitter.com/Yo9XG2fR9p— Super Rugby (@SuperRugbyNZ) February 28, 2019
"That's probably been the biggest eye-opener, he's tireless in his work, his homework and his preparation and that's something we've been trying to promote throughout. He's assured, confident and we believe he deserves an opportunity," he said.
"We're very confident within the group of the way we have trained this week that we're in a good space to head into Saturday confident," he said.
The side were not happy with their performance against the Sharks and the game was a chance to get onto the park and put things right.
"We want to rectify that. Our boys have had some good discussions around our attitude in terms of the game we want to play and making sure we stay true to that," he said.
They would be taking on another formidable forward pack and the players were looking forward to the challenge.
"We also understand we want to play our game, we can't always concentrate on the opposition. We have to focus on ourselves, get our own game going and we want to make sure we do that this week," he said.
The Blues team to play @JaguaresARG in Buenos Aires.

??: SKY Sport NZ @ 10:40am, Sunday 3rd March#RiseUp #BluesAllDay #JAGvBLU pic.twitter.com/WzYVjtNUYX— The Blues (@BluesRugbyTeam) February 28, 2019